Review With our lives increasingly being played out on Twitter, Flickr, Facebook and Youtube, the market is awash with pocketable camcorders from the likes of Flip, Kodak and Creative to satisfy this on-line craving. Indeed, just about all the players in this game have released revitalised HD versions recently, with Sony's Bloggie being among the latest arrivals.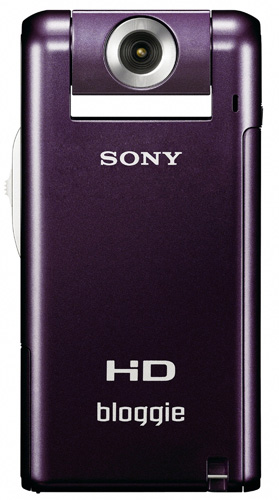 Flex box 360? Sony's Bloggie MHS-PM5K
While similarly styled, the PM5 Bloggie replaces Sony's PM1 Webbie, released about a year ago. Like the Webbie, the Bloggie can take still photos at up to 5Mp, has a 1/2.5in CMOS sensor and records MPEG4 AVC/H.264 video. The main difference is the Bloggie improves upon the Webbie's 1440 x 1080 maximum video resolution and can record at full HD 1920 x 1080/30p. It will also record 720p at 30 or 60fps or SD video at 30fps.
At 19 x 108 x 54mm and a mere 130g including the battery, the Bloggie is much like a mobile phone – easy to carry in a handbag or a roomy pocket. Given the rough treatment it's likely to receive, it's a pity there's not a basic pouch or protective cover provided in the box – Sony will relieve you of an extra £39 for such. Indeed, during testing the 230,400 dots, 2.4in LCD panel soon began to show scratches from everyday handling.
The Bloggie retains the Webbie's swivelling lens arrangement, rotating up to 270 degrees, enabling you to record whilst viewing yourself on-screen. When the lens is facing inside the camera body the unit is switched off. Once the swivel lens is rotated, it powers on and you can start taking stills or video instantaneously.
There's no optical zoom and the 4x digital zoom doesn't work when shooting in 1080p. As digital zooms go it's not too bad as a viewing experience, but you might prefer to avoid it anyway, because its action is really rather jerky.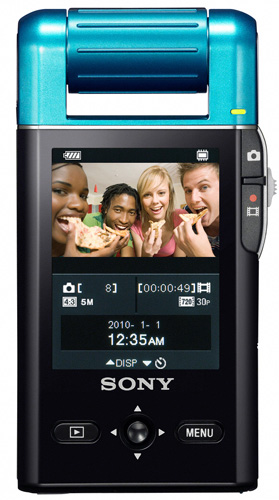 The screen soon picks up scratches – travellers should put it in an old sock for protection
The controls are sparse but the Bloggie is no worse off for this. To the right of the screen are the photo and video capture buttons with the zoom slider on the side. Below the screen is a navigation controller with a playback button to the left and a Menu button to the right. The Menu options are quite sparse too, with the video quality option being the only feature that was regularly revisited.