The GW620 gives you a little something extra, however, with the choice of switching between the standard Android UI and an LG UI derived from its S-Class interface that we've seen on the LG Viewty and others. This adds an additional menu bar at the bottom which remains constant whichever screen you're viewing and your app shortcuts are grouped together for messaging, multimedia etc. It's not necessarily better than the Android UI, but some will like its consistency, and it's nice to have the choice.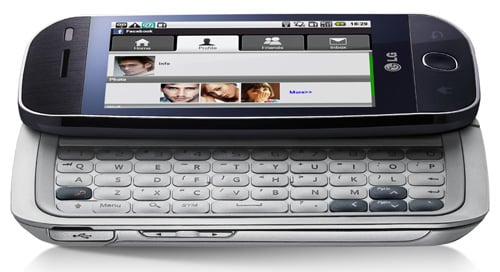 The five row keyboard is well laid out
Considering the GW620's relatively small size, it's a surprise when the keyboard slides out smoothly to reveal five (count 'em!) lines of keys – most have four and the poor old Nokia N97 makes do with just three. This gives the 48 keys a nice spread for the thumbs as well as allowing room for full number and arrow keys as well as lots of additional symbols which can be accessed by a two-button press. The keys are smooth plastic, rather than rubberised, and although small, they're well spaced and easy to hit accurately.
A bit of thought has gone into the messaging with the GW620. You can sort your contacts into groups and they appear as a scrolling list with a nice big dial button and a picture on each entry. You can link your contacts up with your Facebook, Twitter or Bebo accounts by using the SNS button, which walks you through the process and delivers Facebook updates.
Messaging is nice 'n' easy too, especially with that lovely keyboard. It's easy to set up POP3 and IMAP accounts and you can opt for push email if you don't want to keep requesting your emails, though there are, of course, cost and battery implications. There's support for Microsoft Exchange too, which some business users will consider essential.
The unadulterated Android web browser has proved to be pretty good in phone after phone, and so it is here, with easy access to the zoom icons and magnifying panel by brushing the screen. But there's also an additional tab that LG's added at the side that opens up a new transparent menu to give you forward and back, refresh, favourites and additional windows, as well as a host of extra settings.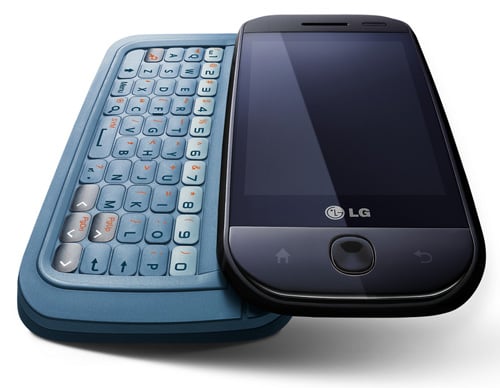 Web browsing is satisfactory, although pages are slow to render
The browser's main problem – besides the lack of support for Flash video, but it's hardly alone in that – is that the screen's wayward sensitivity isn't always up to the job. All too often we thought we'd clicked one link only to have an adjacent one open up, or press and have nothing happen. It tended to be slow to render pages too, even when connected by Wi-Fi to a fast Internet connection.
Similar topics