The gallery shows off pictures and videos in a sort of angled widescreen format if you turn the phone on its side, which looks mighty nice, as does its playback for the most part. It can handle DivX, Xvid, MP4, WMV, H.263 and H.264 video formats as well as MP3, AMR, AAC, AAC+, WAV and WMA audio files.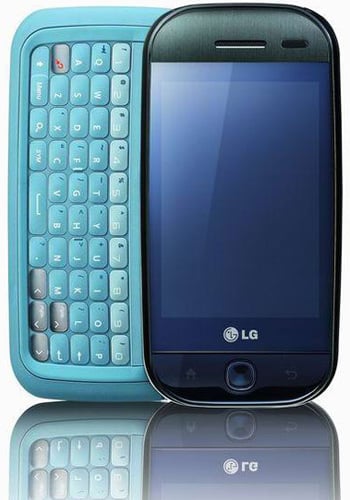 LG's first Android: a bit underpowered but socially acceptable
We still like the Android music player with its big buttons and intuitive menu, and the way you can press and hold an artist's name to initiate a search for additional content by them on the web or YouTube. It's starting to seem awfully familiar now though and could benefit from a bit of a restyling – a graphic equaliser you could access directly from each track would be nice. The sound through the supplied headphones is a little on the muddy side and lacking in clarity, though thankfully it's easy to rectify this with a decent set of headphones plugged into the 3.5mm jack socket.
LG's rather lovely FM radio with its touchy feely tuning dial and half a dozen presets is present and correct and extra features include a basic version of QuickOffice which allows you to view but not create documents, and the Moxier suite of syncing, calendar, contacts and mailing apps.
Call quality was surprisingly poor, due for the most part to the speaker. If you crank it up full – and you'll need to, unless you have cat-like hearing powers – voices invariably sound a little muddied and there's a harshness to the tone that we haven't heard on a quality phone for a while. Battery life was pretty decent overall, and it delivered just a little under two full days of fairly intensive use, even with Wi-Fi switched on for most of that time.
Verdict
The LG GW620's accessible price means that this may prove to be the first move into the wonderful world of smartphones for many and, as such, it's has most of the features we'd expect, even if not all of them work as well as we'd expect. The keyboard is a gem, easy to use and jam packed with keys, and the social networking elements are better than many, but the resistive screen can be irritatingly insensitive and the processor can be annoyingly slow. ®
More Android Smartphone Reviews...

Google
Nexus
One

Motorola
Milestone

Samsung
Galaxy
Portal

Acer
A1 Liquid

LG InTouch Max GW620
This 'smartphone for everyone' has some nice features, but it lacks the quality of its pricier siblings.
Similar topics