This article is more than 1 year old
Canon Powershot G11
The resolution race is over, apparently
Review Canon's Powershot G-series has been a best seller for the best part of 10 years. What photographers have always loved in these cameras is the combination of pocketability with full manual control and direct access to all main settings by means of professional-looking dials and buttons.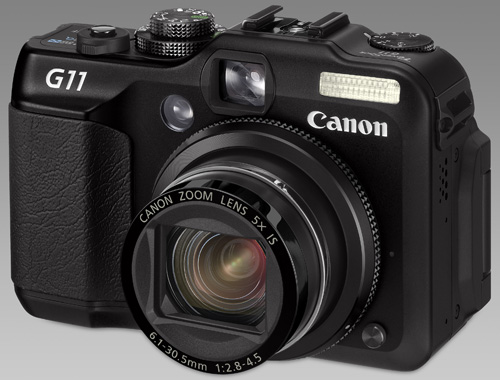 No contest? Canon's Powershot G11
With the G11, Canon remains faithful to tradition but, surprisingly, it puts the brakes on the resolution contest and drops the 14.7Mp count of its G10 predecessor to 10Mp, all in the pursuit of better noise performance. Outwardly very similar to the G10, this model has just a few but fundamental changes.
The Powershot G11 gains what Canon describes as a High Sensitivity sensor; increased sensitivity range with a top setting of 3200 and a new Low Light mode with an extended scene-only speed of 12800. It also features a tilt and swivel 2.8in LCD, albeit smaller than the G10's 3in fixed panel. In addition, there is a Quick Shot mode; White Balance fine-tuning and an HDMI socket.
Other key features are RAW image recording; i-Contrast to even out area of highlights and shadows in high contrast scenes; 26 shooting modes and the renowned DIGIC 4 processor. What the G11 loses is the sound recording option; the remote image capture and the Superfine JPEG file compression featured in the G10.
The design of the body has changed very little from the G10. However, the alloy has been replaced by varnished plastic to compensate for the extra weight of the tilt and swivel LCD, but the G11 maintains all the beautiful metal dials that made the G series the compact of choice of many DSLR owners.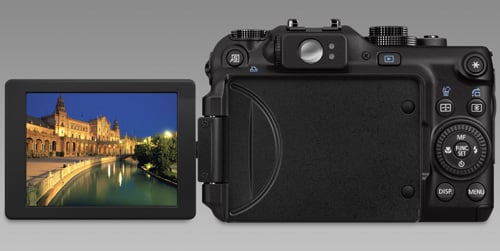 The articulating LCD panel is smaller than the fixed screen of its predecessor
The dials are solidly built and provide direct manual control of the parameters most used by professional photographers, like exposure compensation, manual ISO control and shooting modes. These controls on the top plate of the camera are also designed to avoid accidental triggering or changes.