Canon Powershot G11
The resolution race is over, apparently
By contrast, the controls located at on the back panel are less steadfast, and I often found myself changing settings without realising. Indeed, the delete button – inserted close to the resting position of the right thumb – is easily activated by mistake. That said, the buttons on the rear of the camera are cleverly angled, which makes them easy to identify by touch. So, as the G11 becomes more familiar, these controls eventually become more difficult to press in error.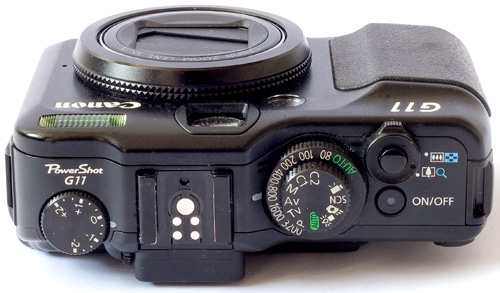 Manual controls maintain this compact's appeal among the pros
The G11 is large and heavy compared to most 5x compacts but feels quite balanced in your hand and gives you the sensation of handling a professional small camera. Appealing to professional photographers is the inclusion of a viewfinder, but the reduced size and limited 77 per cent vision together with an almost total lack of data indicators makes it practically superfluous. Canon went out of its way to design a compact that gives a similar shooting experience to a SLR, even down to an analogue-style light meter needle, so it's a pity so little attention was paid to the most pro-friendly feature of all.
The lens itself is great for such a small camera and a main advantage over larger-sensor cameras like Olympus PEN E-P1 or Panasonic GF1, that offer either fixed lenses or interchangeable lenses at extra costs. The optical quality of the G11's lens is the same of the G10, with very little softness at the edges and not much chromatic aberration, but the lower resolution of the G11's sensor smoothes out any minor flaws and gives better overall image quality.
The in-built zoom lens is not only exceptionally bright and sharp for its size but it is also a versatile all-rounder with a Macro function capable of focusing as close as 0.8 cm, a wide angle with very sharp edges and a bright, stable 5x zoom.
However, The zoom lever surrounding the shutter was also a frustrating, with a less than smooth action and an annoying delay in responding. Considering that the 5x, 28-140mm, f/2.8-f/4.5 stabilized lens is one of the main selling points of this camera, it is a pain that accurate zooming to the desired focal length isn't easier to achieve.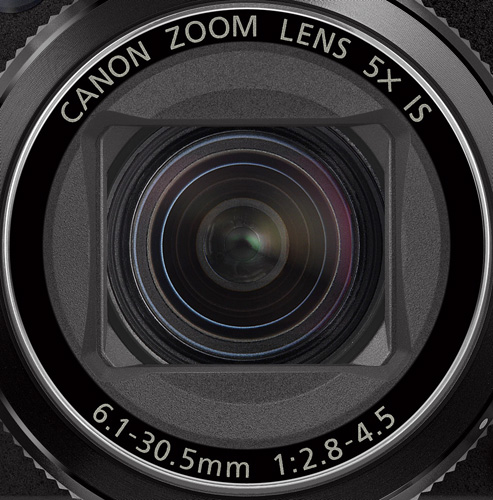 Great lens, but the zoom control lever lacks sensitivity
Canon's image stabilisation greatly enhances the already excellent performance of the lens. It can be selected in two modes: Continuous for faster shooting or Shoot for maximum level of correction. A nice addition is the Panning option that helps reduce camera shake when tracking horizontally moving objects. The G11 includes a built-in flash unit that features nice professional manual settings like flash exposure compensation, rear-curtain sync and a new increased sync speed of 1/2000th of a second. The flash performs well as both main and fill-in light.