The UK faces at least two years of peak-time power cuts in five years, despite the Conservatives' pledge to revive nuclear power.
The Tories' energy policy was published Friday, and while a revived nuclear commitment provides some of the promised "energy security", it won't come in time. And, amazingly, the party has committed to propping up the carbon price.
By 2015 the high cost of complying with EU environmental compliance will have taken out a third of the UK's coal capacity - the power companies would rather close than comply - followed by two thirds of its oil powered generating capacity by 2020. Nuclear provides 14 per cent of UK electricity today, but all but one of the current generators are due to close by 2022.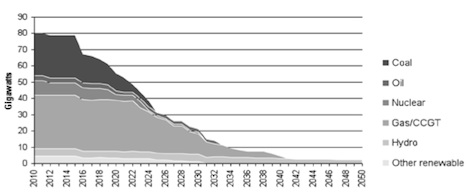 UK energy capacity, by source
That means cuts - or in the ministry's jargon "expected energy unserved" - in just five years' time.
The Tories note that by 2017, the 3GW hour shortfall will mean "a 15 minute power cut for every household in Greater Manchester, every winter night for a month".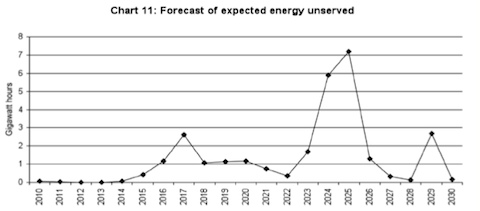 When to expect cuts: UK "expected energy unserved" (Source: DECC)
Gas will need to fill the gap - and almost all of it is imported.
The Conservatives have vowed to maintain the EU's 20 per cent renewable target, and reiterated the Millipledge to mandate unproven Carbon Capture and Storage (CCS).
Strangest of all, the party has committed to propping up the price of carbon. Carbon trading is the Kyoto solution to get the energy companies on the global warming bandwagon, and many have indeed signed up.
But the price of carbon is volatile - it's fallen to €1 per tonne, and this week two exchanges (France and the Nordics) were suspended.
"The experience of the ETS has been of such price volatility and market uncertainty that it has had the opposite of its intended effect: it has made long-term investments more risky and therefore more costly, and so less likely to be made," explains the strategy document.
The Tories plan to manage the price of carbon by revising an energy tax, the Climate Change Levy, paid by energy suppliers. This would kick in when the European carbon price fell below the desired level.
Of course, energy companies will pass on the cost to the punters. You can see why Tory party faithful call the front bench "BluLabour".
You can peruse the policy here (pdf). ®