Pirates of the Caribbean say 'narrr' to Bulgarian airbags
Fourth film to be an entirely natural affair
---
The director of the fourth Pirates of the Caribbean outing has decreed that actresses with breast implants will not be welcome to swash their buckles alongside the 100 per cent natural and impressive pirate's chest of Penelope Cruz.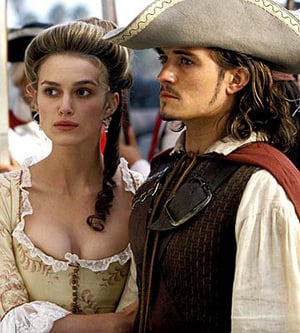 Rob Marshall has instructed Los Angeles casting agents that he's after "beautiful female fit models" for scenes to be shot in Hawaii this summer. He adds: "Must be 5ft 7in-5ft 8in, size 4 or 6, no bigger or smaller. Age 18-25. Must have a lean dancer body. Must have real breasts. Do not submit if you have implants."
According to the Daily Mail, anyone with Bulgarian airbags who reckons she can fool the Pirates of the Caribbean: On Stranger Tides team should be aware Marshall is planning a "show and tell" day during which "applicants will be expected to pass a test specifically designed to detect false breasts".*
Ms Cruz will not, of course, have to submit her assets for testing. She's replacing the less prominent Keira Knightley (see pic, with Orlando Bloom), who admitted that make-up artists "literally painted in my cleavage" for her role as Elizabeth Swann. ®
Bootnote
* Note to Rob Marshall: We at the El Reg Bootnotes department feel we're particularly well qualified to carry out this crucial testing. Give us a call...