Swiss Army Knife maker Victorinox is asking the best of Britain's hackers to try and beat the biometric security built into its latest USB Flash drive-fitted penknife.
If you manage it, you stand to win £100,000.
The company will be holding trials at its New Bond Street, London shop this coming Thursday and Friday, 25 and 26 March. To have a bash, you need to download and return an application form by Wednesday.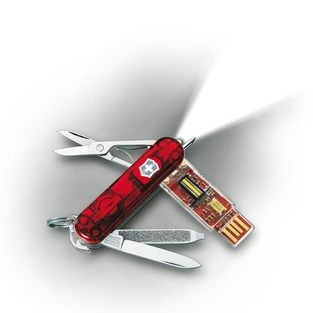 Victorinox's Swiss Army Knife Secure
You can get the form here, where you'll also find the contest's Ts&Cs.
If you're selected as a participant, you get two hours in which to try and hack the knife. Whether you manage it or not, you get to keep the penknife itself - and take home some other goodies, Victorinox said.
The company's pitch for the penknife itself is the product's ability not only to protect the data stored upon it but to make use of the internet connection of any PC it's connected to.
If the device is plugged unto an unknown computer, it emails its owner. If no reply is received, it automatically zaps the Flash chips. ®