US city holds outdoor Google worship service
Appeals to web god with eco-friendly glow sticks
---
Hundreds of Google worshippers gathered in the streets of Greenville, South Carolina over the weekend, paying homage to the all-powerful web god with eco-friendly glow sticks in the hopes it will one day bless their homes with 1Gbps broadband.
On Saturday night, a massive congregation of Greenville residents formed "the world's first and largest people-powered Google chain" in a public park at the heart of the city, spelling out the net ruler's name with spinning LEDs guaranteed not to harm the planet. The outdoor worship service was recorded for posterity by multiple news crews, multiple helicopters, and an airplane: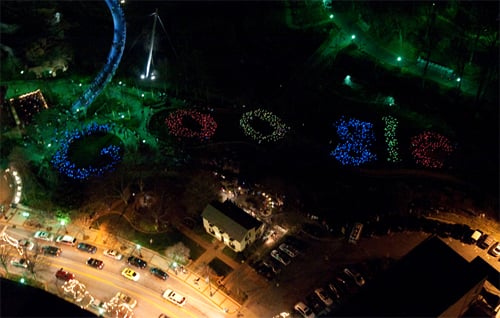 Google worship from above
The service was expected to attract 2,000 worshippers, but in the end, far more made the pilgrimage to Greenville's Falls Park. "It's a good thing we bought 200 extra glow sticks," said city IT director and Google worshipper Lehsa Griebel.
Service organizer Aaron von Frank insisted that Greenville's Google worship exceeds the Google worship of any other US burg. "There is no other city in the country that could have cut through the red tape and pulled this off in the two weeks it took us to do this," he boasted.
That said, the city of Topeka, Kansas recently changed its name to Google in an effort to win the favor of the interwebs giant, which has promised gigabit fiber to those cities that succeed in pleasing it the most. ®