The Office Fair of Trading is to examine Project Canvas, the BBC's strategic Sky-f*cker next generation set-top box.
The BBC Trust looked at Canvas and decided that its strategic goals of screwing over Murdoch and Branson furthering BBC content were not incompatible with the Trust's charter.
The Beeb argues that complete control of the EPG a common standard is necessary for manufacturers and content companies to grow on-demand TV in the future. This came as something of a surprise to the TV industry's own standards group - the DTG, or Digital TV Group - which is platform agnostic, and has been setting standards since 1995. So far Canvas has won support from a number of manufacturers including Cisco and LG.
Canvas is a secretive project, and Broadcast magazine reports that the BBC stalled the DTG's request for specifications for six months.
The Canvas spec is a Linux set-top box with ethernet I/O, and will run web apps as well as premium TV content. It's variously dubbed "Freeview on steroids" or "the iPlayer in hardware".
Critics include pay-TV operators Virgin and Sky, who say that since Canvas controls the UI, it can exclude their content with impunity. The fears appear to be justified, with Canvas controlling all the important aspects of the user experience.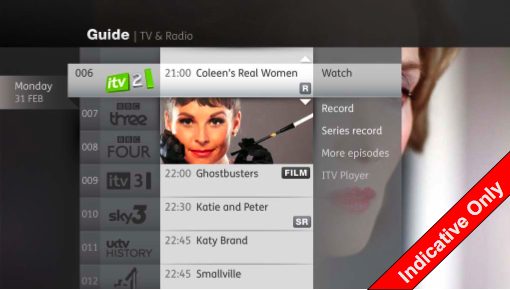 The Guardian in hardware:
Canvas sample UI
Ofcom, which nominally has the right to intervene on EPG (electronic program guide) discrimination, ducked the issue and failed to carry out an impact assessment. The OFT investigation gives Canvas' critics another crack.
The BBC said that transmission company Arqiva has joined, and outlined a shareholders' agreement. While Canvas is new technology, you can tell the thinking comes straight from TV's old guard.
In a section titled 'Cost Recovery', Canvas states one of its goals is "to develop ways in which the Company can recover certain operational costs which shall include, without limitation, charging for EPG listings, licensing of the Canvas trademark and any possible commercial exploitation of data".
You can see why they want to control the EPG. ®