HTC Legend
Hit or myth?
---
The Legend's side buttons and connectors are minimal – a volume rocker on the left edge, an on/off switch on the top edge and just two connectors. On the bottom edge is a micro USB port for charging and computer connection. On the top is a 3.5mm headset jack – the ideal location.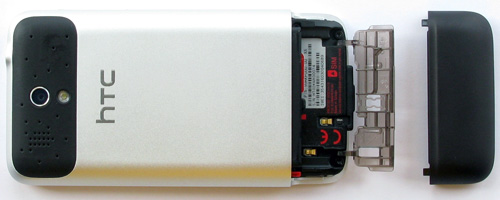 Easy access the micro SD card slot, but it's not hot swappable, alas
Beneath the screen on the front are the usual four buttons – Home, Menu, Back and Search. They are nicely flush to their surroundings and easy to hit. Underneath these buttons, sitting all alone in a silver aluminium surround, is a small optical trackpad. This replaces the tiny trackball on the HTC Hero.
At first we thought the trackpad was too small to be really useful, but in fact it is comfortable under a finger, responsive, and the press-to-click feature works well. The capacitive touch screen alongside a revamped HTC Sense User Interface and Android 2.1 make the HTC Legend a joy to use. The 600MHz processor seems just sufficient ensure this handset responsive.
On the Hero, HTC offered seven home screens accessible with horizontal finger sweeps. The Legend goes one better. There are still seven home screens, but this time you pinch in on any one of them and all seven are shown as thumbnails ready for you to open one with a tap. This all looks great, but isn't ideal for one-handed use. However, you can get to the thumbnail view with a double press of the home button, and just for good measure the horizontal sweeping also remains intact.
On the HTC Hero, widgets were separated out into those from HTC and those built into Android. This time round they are all together under one heading, which pops up when you long press on a home screen. As well as widgets, you can add shortcuts to any of the home screens. Ideal for accessing a favourite contact or folders, such as all content received via Bluetooth, and, of course, regularly used apps.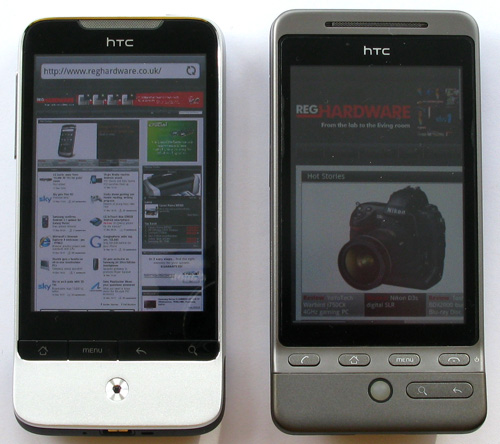 Face off: Legend and Hero square up
Pinch to zoom is really responsive – in fact a little over-zealous when web browsing, as it was rather too easy to zoom in further than required. Also, subsequent page-dragging to view what you are zoomed in on was a smooth process. Indeed, these operations are significant because full Web pages are shown in their entirety so that you get an overview and can identify where, precisely, you want to zoom to. Text reflow works well too, so that text resizes properly as you zoom around and the whole browsing experience feels comfortable.