HTC Legend
Hit or myth?
---
The Web browser features copy and paste too. Simply hold a finger on screen, two markers pop up, which you can drag around the text you want to copy. You can then choose to copy the text to the clipboard, share the site it came from with social network options such as Twitter using HTC Peep. You can even look the text up in Wikipedia, get a translation or definition, and all from a few screen taps.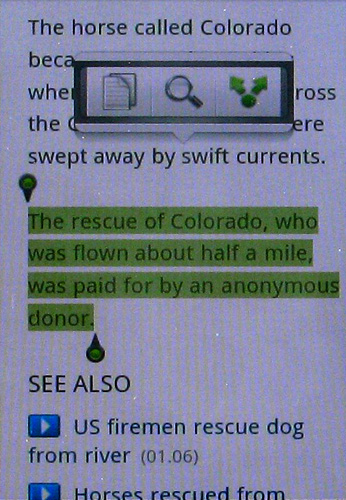 Copied text can be repurposed in a number of nicely streamlined ways
Flash support is on-board, enabling video streaming from the Web, with a double tap bringing it up full screen. The quality isn't great, but it does work. Locally stored video played very well too. The Legend supports 3GP, 3G2, MP4 and WMV and we found viewing experience comfortable and undemanding with the vibrant screen really highlighting colour definition.
The music player supports a fair range of formats running to AAC, AMR, .Ogg, M4A, MID, MP3, WAV and WMA. It supports both genre and composer tags, as well as the more common artist, album and song categories. There is still no equaliser, but music quality is reasonable through HTC's provided flat in-ear buds, and thanks to the 3.5mm jack it is easy to substitute your own headphones. On first use, the FM radio will automatically scans for stations to populate its 20 presets.
The camera shoots stills at 5Mp and even incorporates a small LED flash, something we are not used to seeing on Android handsets. There is no macro mode, but the auto focus kicks in automatically, and you can tell the camera where to focus by tapping the screen. Overall, the images are passable, and we'd even class them as good in some outdoor lighting conditions.
The screen flips between landscape and portrait modes when you turn the Legend in your hand. When writing text you get a full Qwerty keyboard in wide mode, while in tall mode there is a more squished version. Even the smaller keyboard was responsive, and we found working on both more accurate than using our everyday HTC Hero.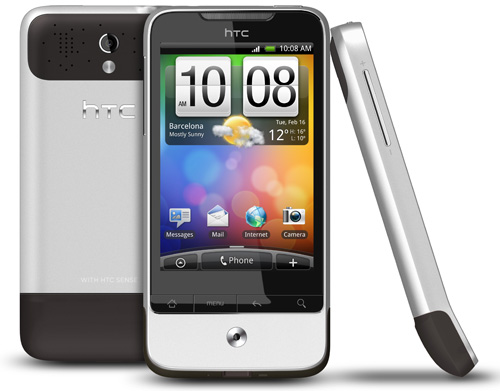 The Sense UI offers seven menu screens, as well as various shortcuts and widgets
E-mail works well and setup is easy. Besides address and password, you'll also need POP and SMTP server information to hand. The e-mail screen has had a bit of a revamp, with more touch buttons beneath the screen allowing you to see incoming mail, threaded email conversations and filtered messages to show just those from your VIP group, just unread messages and just emails with attachments. For the business users out there, Android 2.1 also supports Exchange email.