HTC Legend
Hit or myth?
---
There is a new app called FriendStream, which brings together Facebook, Twitter and Flickr updates in one place. Think MotoBLUR. Once logged in to accounts, you can put a widget on one of the home screens and then just flick to it when you want to see updates.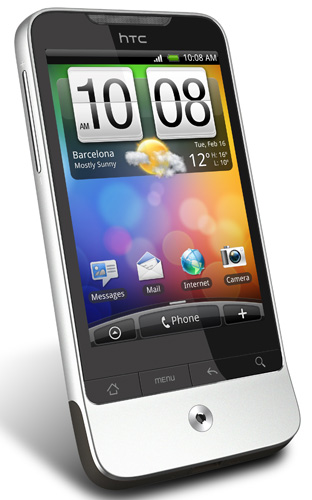 A Legend until lunchtime? Heavy users will need a battery boost in the day
Contacts from Google, Sim card, Facebook, Exchange and within handset are integrated. Our Facebook contacts were readily pulled into the phone book so we could call them easily when choosing to dial. Also, when opting to message, contacts with e-mail addresses and mobile numbers were listed so we could choose which method to contact them by.
There are lots of little touches that you discover while you use the HTC Legend. For example, when the phone rings you pick it up, and the G-sensor can tell you are raising the handset so it lowers the ringer volume. There's no automatic answering, but at least fellow train travellers shouldn't have to listen to loud ringing for overly long. And HTC has borrowed a trick from others in that you can silence the ringer completely when you turn the handset onto its front.
Call quality was fine, but the battery life is a real let down. We barely got through a half day of reviewing work between charges. That meant having Wi-Fi on and in use a fair bit of the time, playing music, browsing the Web using 3G, using Google Maps and more. Admittedly this is probably a fairly intensive usage pattern. But we think a semi-heavy user may find the HTC Legend can't get from morning to night without a battery boost. ®
More Android Smartphone Reviews...

LG
InTouch Max
GW620

Google
Nexus
One

Motorola
Milestone

Samsung
Galaxy
Portal

HTC Legend
Potentially the best Android handset around, but the rather poor battery life will frustrate the very users it was designed for.