Internet Explorer's European market share has decreased noticeably since Microsoft rolled out its browser ballot screen to EU Windows users, according to new data from net research firm Quantcast.
Redmond introduced its ballot screen on March 1, after settling an antitrust complaint with the European Commission, and in a blog post, Quantcast says that March 1 was the last day IE handled a majority of Europe's web traffic. IE's share may have dropped as much as 5 per cent in the three weeks since: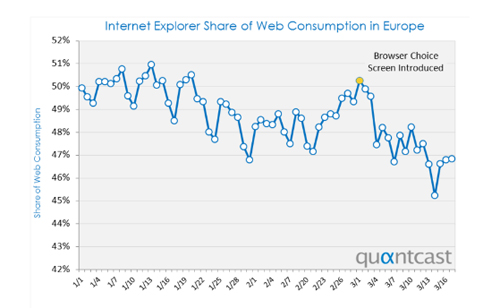 According to the firm's preliminary numbers, Mozilla's Firefox is the main beneficiary of Microsoft's slide. "Recent data suggests that Mozilla's Firefox has seen the largest boost from the choice screen, but we'll have to wait a little longer to see the full impact of the forced choice on Microsoft's share," Quantcast says: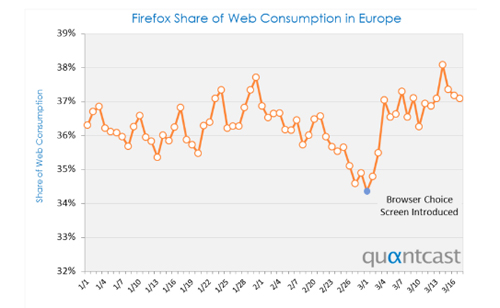 Quantcast's post follows an oft-repeated story from Reuters that says Internet Explorer has lost market share in France, Italy, and Britain since the ballot screen went live, citing numbers from research outfit Statcounter. According to Reuters, Internet Explorer's share has dropped 2.5 per cent in France, one per cent in Britain and 1.3 per cent in Italy.
But Statcounter's overall European numbers indicate that IE's share has held steady over the past month: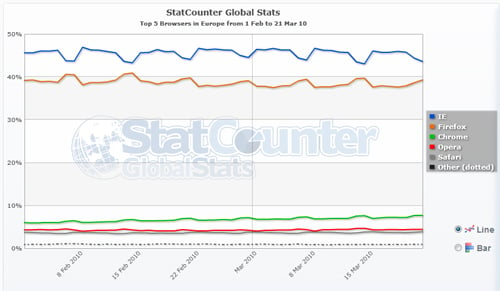 As Betanews points out, Internet Explorer's share did take a dip over this past weekend, but it takes a dip every weekend, as users leave their work machines for their home machines.
In any event, Opera says it has seen its European downloads more than double since the ballot screen was rolled out, and Mozilla says it has seen "significant" European growth as well. ®