US Navy plans self-building floating fortresses
Swimming, stacking ISO containers: Just add SEALs
---
But DARPA wants to do more. It is also interested in building floating bases out of ISO boxes offshore:
Modular Sea Base is a concept for large, at-sea logistics structures formed from standard 20-foot ISO container-sized modules. Each module, deployed from a commercial containership, would have self-contained propulsion, a means of connecting to other modules, and low-level autonomy algorithms allowing the modules to self-form structures in the water.

Ten modules could theoretically be arranged in a 40-foot by 40-foot pad with 170 tons of collective buoyant capacity, enough to serve as an ad hoc helicopter landing pad. Since even smaller containerships would be capable of carrying thousands of modules, if individual modules could be produced at a cost low enough to justify procurement, larger numbers of modules could form more interesting structures such as large scale joint force deployment bases.
The self-assembling modular seabases could also, as DARPA notes, provide docking-bay facilities for useful inshore craft such as the Mark V Special Operations Craft gunboats and other vessels favoured by the US Navy SEALs, or the various hover and landing craft employed by the US Marines.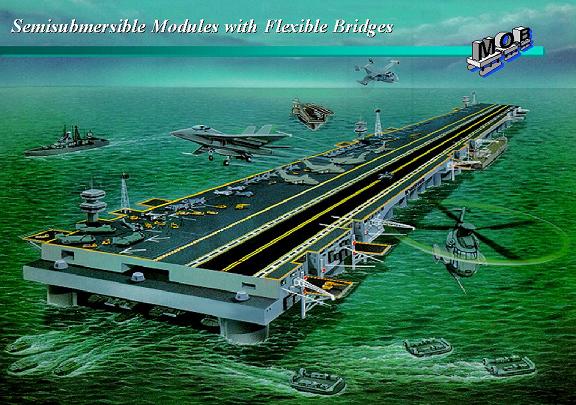 The old-school version.
More ambitious concepts in the past have envisioned locking together a line of oil rig-sized specialist units which could cruise to the target area on pontoon hulls, then part-flood and submerge these so that only the support pillars were battered by waves. This would allow a row of units to be mated together and form a mighty floating fortress that could even include a runway for jets.
Similar topics
Broader topics