Sure Signal not so sure
Vodafone leaves the disconnected disconnected
Vodafone's Sure Signal is supposed to provide connectivity to the disconnected, but for the last few days the service has been far from sure despite relying on customers paying twice.
Punters who shelled out 50 quid on the promise of getting a connection over their own ADSL line, where no wireless service was available, have been left facing repeated disconnections and slowdowns of the service as Vodafone struggles to integrate its mobile phone network with the internet.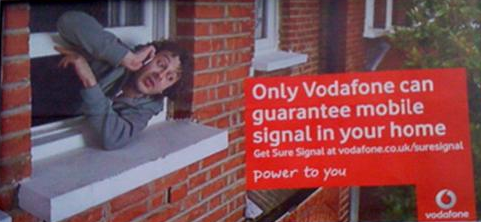 A nice promise - only it doesn't, and it can't
Originally launched as the Vodafone Access Gateway, and billed at more than £100, customers lacking coverage can now pay as little as a fiver a month (or £50 down) for the privilege of providing their own backhaul - calls and data are routed over the customer's existing ADSL service, and thence over the internet into Vodafone's network.
The service requires 1Mb/sec of ADSL, but we've run it at quite a bit less than that with successful results. Despite the fact that one is effectively paying twice for the connectivity (once for the broadband, once for the cellular), the joy of having coverage where there was none is hard to knock.
Except when it's not working, of course. Our own Sure Signal box has been playing up for the last day or two, and Vodafone's forums are now awash with users complaining of intermittent connection failure.
We spoke to Vodafone about the problem and, following investigations, the company told us that "Some customer[sic] will have noticed changes in their Sure Signal service for short periods of time over the last few days during planned maintenance upgrades".
This isn't reflected in the numerous forum postings nor our own experiences, both of which would indicate numerous incidences of downtime lasting several hours. We've asked what prevented Vodafone warning customers about these "planned maintenance upgrades", but haven't heard back as yet.
Femtocells seem an ideal solution for network operators looking to expand their presence without spending money, but connecting internet-based devices to the core network is scary stuff. We understand it was the complexity of that connection which prompted O2 to drop the whole idea despite having run extensive trials, and the other UK operators have not leapt to follow Vodafone's lead.
Femtocells are a good idea, but charging punters 50 nicker for a "sure signal" and then delivering nothing of the kind isn't a good idea at all. ®