Never one to miss an opportunity, Belkin has launched a set of new 802.11n broadband wireless routers. Taking note of World+Dog's interest in iPhone and Android apps, Belkin is pitching the devices' functionality as a series of "apps", each with its own small, square icon.
In fact, many of them are simply features that are part of the routers' firmware - and a fair few are simply Belkin brands applied to existing technologies. Belkin's "BitBoost" app is, in reality, Wi-Fi's existing Quality of Service sub-system. "Music Mover" is Belkin's name for DLNA.
Still, Belkin has chucked in some real apps: Music Labeller, which populates empty ID3 tags not by resorting to Gracenote et al, but by sampling the sound and using a Shazam-style service to identify the music, artist, album etc.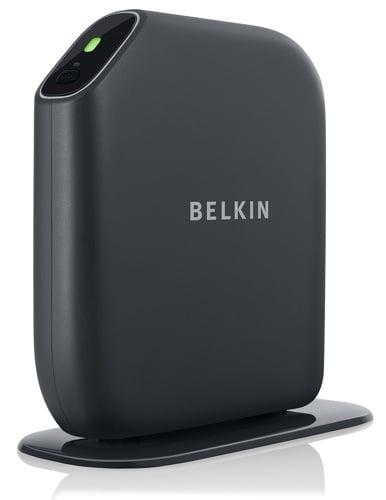 Belkin's Play Max router: lots of features
Belkin has also taken the printer and hard drive sharing technology, and its auto back-up system, found in its existing Home Base product - reviewed here - and added it to the new routers.
Which comprise the Surf, the Share, the Play and the Play Max. Surf is the basic model, with 2.4GHz 802.11n and Easy Start, Belkin's new minimal-action WPA-based secure set-up system.
Share adds a USB port and the ability to share connected hard drives and printers on the network. It also incorporates Memory Safe, the auto-backup software.
Play builds on Share with simultaneous 2.4GHz and 5GHz 802.11n, plus DLNA, Music Labeller and other apps.
Play Max chucks QoS, UPnP, a second USB port, Gigabit Ethernet jacks, and a BitTorrent client into the mix.
It costs £100 - £120 with an integrated ADSL modem. The Play is £80/£100, the Share £70/£90 and the Surf £50/£70.
All four modems - plus USB 802.11n adaptors for laptop and desktop PCs - will go on sale in May. ®