Dell Mini 10
A chip off the old block?
---
Review As every netbook maker worth its salt hurries to replace its existing line-up with second generation models using Intel's new Pine Trail chipset, we are clearly going to have to get used to being presented with an ever increasing slew of machines which frankly are pretty much the same as the ones they replace.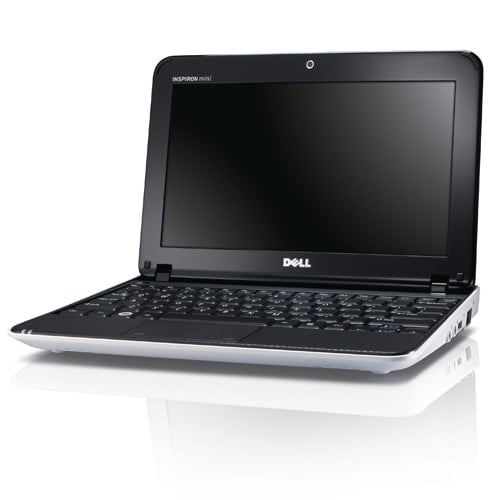 Dell's Mini 10 in its Pine Trail guise
To date our experiences with Pine Trail suggest that the only real benefit it brings is longer battery life, so its going to be down to the netbook makers themselves to add a little surprise and delight if they expect anyone to upgrade or happily pay a premium for the new machines.
Dell's new Mini 10 has gained a little in size and weight over the old machine of the same name and now measures up at 268 x 197 x 25.5mm fattening to 32.8mm and weighs 1.37kg with the 6-cell battery pack. This is only visibly obvious at the back – the body now sticks out beyond the screen hinge by 17mmm. Still, this does allow the 6-cell battery pack to be far more successfully integrated into the chassis than before. Not only is it one of the better integrated 6-cell battery instals we have seen in a netbook, but it sits far more securely in its bay than the 6-cell pack did in the original Mini, which could develop a worrying wobble.
Another external change is the new textured surface surrounding the keyboard and trackpad, but it is a purely cosmetic tweak. More practical is the repositioning of the power jack and Kensington lock from the left hand side of the machine to the back, where they should be really. Incidentally, US buyers can choose from a range of over 200 lid designs for $85 (£56) while those of us in the UK can only select from 6 colours – other than the standard black – for an extra £35.
Alas, the one-piece trackpad with clickable corners is a carry over from the original Mini 10 and still can't honestly be rated as anything more than adequate, and it doesn't support multi-touch beyond basic scrolling. The keyboard itself now has terraced rather than flat keys but they don't have the sharpest or cleanest of actions and so it lags behind the sort of keyboard quality on offer from Samsung, Toshiba or HP on machines of this ilk. The rather puny 1w stereo speakers didn't impress either.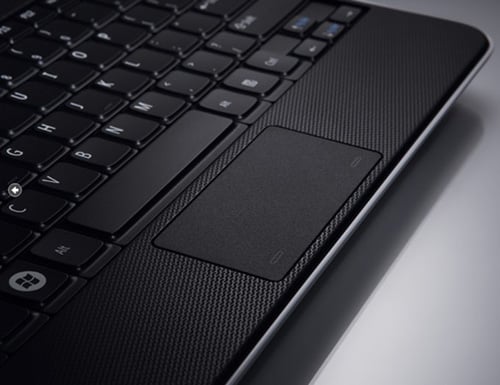 Typecast: the keyboard leaves room for improvement
Inside, an N450 Atom 1.66GHz processor runs the show, while the glossy 10.1in 1024 x 600 screen is driven by Intel's integrated GMA3150 graphics. Memory is an equally unexceptional 1GB of DDR2 Ram. Connectivity includes 802.11b/g Wi-Fi, which is looking a bit shabby now that Samsung is fitting 802.11n to its netbooks, as does the fact that a Bluetooth module will set you back an extra £30 while a 3G wireless card – to take advantage of the Sim card slot lurking behind the battery – will cost another £100.