A look at how much old Apple products would cost if they were released today doesn't quite show what it hopes to - that the iPad is very good value - but it does provide an interesting insight into the economics of technology.
Online deal site Vouchers.co.uk has run a table showing key Apple launches of the past 30-odd years, what the retail price of those products were then and what they would be now, thanks to the effects of inflation.
So, the 1983 'Macintosh prototype', the Apple Lisa, which launched at $9995 would now cost $21,745. The $6500 Macintosh Portable, from 1989, was priced at $6500 back then, but would carry a $11,356 price tag now.
Move on through time and the impact of inflation plays less of a part. The first iPod, for example, was launched in October 2001 for $399, which amounts to $498 now. You can see the full table here.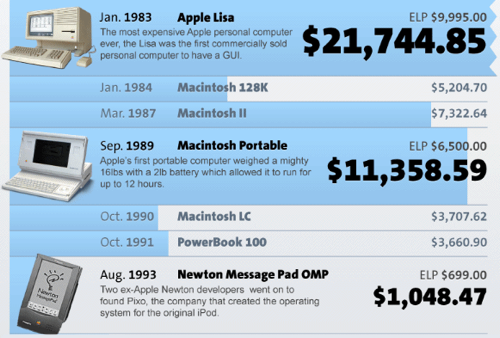 Source: Vouchers.co.uk
But that's the problem: an iPod doesn't cost the best part of $500. Moore's Law - roughly stated, every 18 months, computer components halve in price - and the rise of cheap Chinese manufacturing has driven prices down, despite upward inflationary pressures.
A day doesn't pass when Reg Hardware staffers don't give thanks to the People's Republic for the beneficence of cheap electronics it has bestowed upon us Westerners.
There's no way an Apple portable - or a laptop from any other manufacturer, for that matter - would cost almost $11,500 now, let alone the $6500 Apple was charging in 1989. Apple's priciest portable - the 17in MacBook Pro - costs $2499. Its cheapest is $999.