The UK government's business, innovation and skills department (BIS) is currently peering into its own Web2.0 navel in an effort to work out if it's wasting time and money on "social media" websites.
Earlier this month, BIS kicked off an "informal" consultation into its Twitter, Facebook, Flickr, YouTube and podcast activities by encouraging British citizens to respond to an online survey. So far, however, the department has received just 71 responses as of yesterday, 25 March.
"To inform the department's social media activity a consultation began on 10 March 2010. The consultation seeks to find out whether we are utilising the channels correctly and communicating with people in a manner that is appropriate and helpful to them," a BIS spokesman told The Register.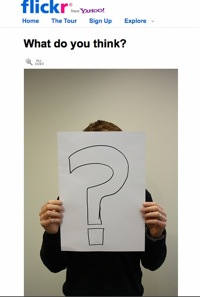 BIS draws big, fat question mark
We also asked the department to tell us how much management of these "social media" services costs the taxpayer. The spokesman pointed us to a parliamentary answer to a question tabled by Tory MP Andrew Rosindell on 26 January this year.
He asked BIS minister Pat McFadden to confirm how many people his department employed to "maintain its participation in social media and networking sites; and what estimate he has made of the cost of employing such staff in the latest period for which figures are available".
McFadden said that four people from within the BIS team were "involved as a small part of their total duties in managing the department's presence on social websites Twitter, Flickr and YouTube".
He said the work added up to around "0.2 full-time equivalent staff," and added that, based on payment grades of the staff concerned, McFadden estimated a cost of £668 per month to feed the Web2.0rhea machine.
Because the survey is only an "informal consultation" BIS has no plans to publish its findings on its official website. In fact, the survey itself has only been reaching out to those people who use the likes of Twitter and Facebook to find out the latest vanilla Mandy gossip.
So 71 responses probably tells BIS all it needs to know about how the British public is interacting online with the department. It's a bit like bouncing off the walls of an anechoic chamber. ®