This article is more than 1 year old
Dell 1320c
Review Tall and black, this big, square Dell cube makes its presence felt on the desk. Paper feeds from a decent-capacity, 250-sheet paper tray and there's a single-sheet multipurpose feed, too. The control panel is simple, but includes warning LEDs built into a useful schematic of the printer.
What this Dell machine saves in desktop footprint, it makes up for in height. This is because the cartridge-integrated print engine runs vertically up the machine. It's cunningly arranged inside with the drum units accessed from the front and the toner cartridges behind a door in the right-hand side panel.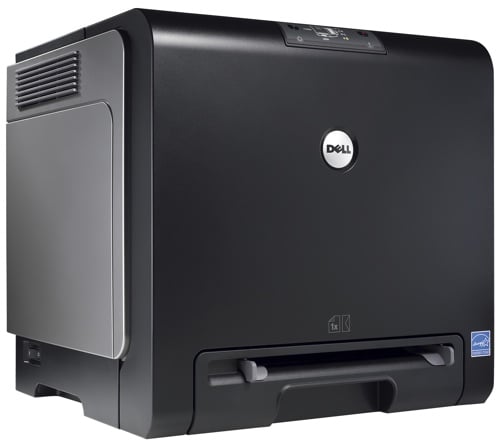 This printer includes both USB and 10/100Mb/s Ethernet connections as standard, but you're expected to run it from a PC - there's no Mac or Linux support.
Dell rates the machine at 16ppm for black and 12ppm for colour, but we saw closer to 10ppm and 8ppm under test, neither of which is particularly impressive. Print quality is good, with clear black text and bright colours, though if you print photos, leave the colour settings on auto, as this produces better results than selecting portrait or landscape subjects manually.
Toner is a consumable, but replacement drum and fuser is included in the Dell service contract, so we've factored this into the running costs of the printer. Pricing up the high capacity cartridges produces a cost per page of 4.1p for black print and 13.1p for colour.
The colour cost is the lowest in the group but, paradoxically, the black print cost is the highest. ®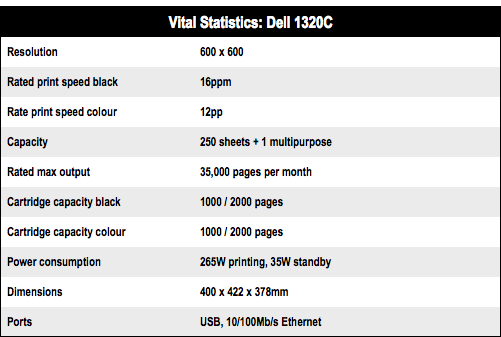 Next: HP Color LaserJet CP1215

Dell 1320c
With good print - though expensive in black - this is a versatile PC colour laser.