This article is more than 1 year old
HP Color LaserJet CP1215
Review This printer and the Canon i-Sensys LBP5050 use the same colour laser engine, designed by Canon. HP puts it in a case of its own design, but there are still many similarities between the two machines.
Set into the heavily curved front edge on the right is a simple control panel with a series of eight indicators and two control buttons for paper feed and job cancel.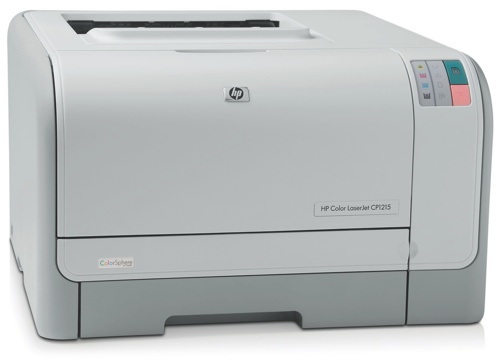 The 150-sheet paper tray is on the small side and has a peculiar hatch just above it, apparently access for the relief of paper jams. However, paper feeds from the back of the tray and the hatch isn't deep enough to get your hand through.
The only rear socket is for USB and you'd need a third-party print server to connect this machine to a network. Support is provided on CD for Windows, and Linux drivers can be downloaded, but there's no Mac OS X driver available.
HP rates the Color LaserJet CP1215 at 12ppm for black and 8ppm for colour print, but we saw maximum speeds of 9.5ppm and 4.8ppm, respectively. These are pretty much on a par with those from the Canon printer, but slow in comparison with most others.
Print quality is similar in all respects to the Canon, with good, clean black text and bright colours for graphics, but with over-dark tones that can make superimposed black text hard to read. Photos come out over-vivid and dark tones tend to black.
The prices of the integral drum and toner cartridges give cost per page figures of 3.5p for black, the second highest in the group, and 18.5p for colour, the absolute highest. ®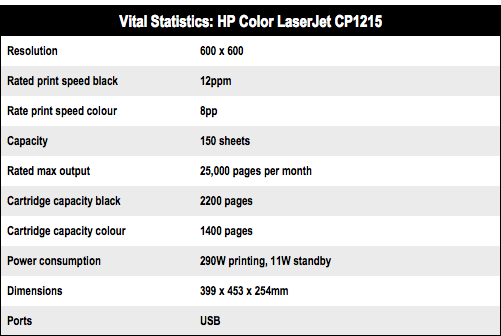 Next: Lexmark C540N
 

HP Color LaserJet CP1215
HP used to be the standard for laser printers, but there's nothing special about this one.