This article is more than 1 year old
Samsung WB5000
A 24x superzoom that goes the distance?
Review In the world of the serious superzoom bridge cameras, Samsung's WB5000 is currently the company's only fully-loaded model. It sports an 24x f/2.8–5.0 zoom lens, a 12Mp sensor with with RAW mode shooting and 720p HD video recording. It also features dual optical and digital image stabilisation, two user-defined shooting modes and the classic aperture, speed priority or full manual mode.
A long shot? Samsung's WB5000
At a glance, the specs are quite impressive but the WB5000 has to compete against some excellent rivals like the Panasonic FZ38, Nikon P100 or the Canon SX20 IS, all with similar price tags at £300, if you shop around.
At 116.1mm x 82.8mm x 91.1mm and weighing 398g without battery and card, the smooth plastic body of the WB5000 has a nice slimline look compared to other superzooms. Although the camera appears well designed with an ergonomic rubberised front grip and a small thumb rest on the rear, it does not feel very sturdy and the lack of space on the left of the lens does not deliver balanced handling.
The operation of the command buttons and dials is nicely laid out and efficient. On the rear of the camera there are a number of useful and tactile dedicated buttons that include direct film recording and a function button that gives you easy access to all the main features of the camera like White Balance, Resolution, Image Stabilisation, Focusing and Drive Modes.
Unusual for this type of camera but very useful is the inclusion of Exposure Lock and Exposure Compensation direct commands. The Shooting Mode dial feels quite firm and responsive letting you select from Samsung's rich range of shooting options: 11 scene modes; Smart Auto, a point and shoot alternative; Beauty Shot mode; Night mode; two user defined modes; Program; Aperture/Shutter Priority and Manual mode.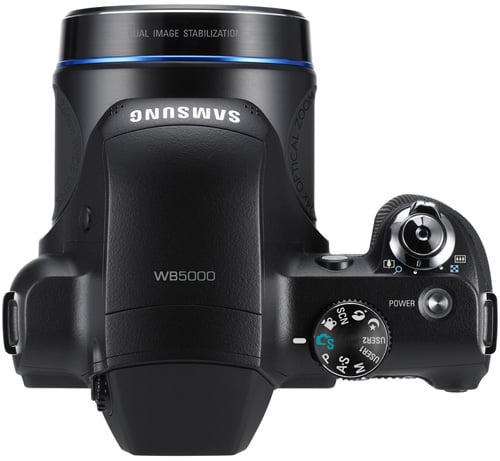 Two user modes and manual operation allow for customised shooting
In full and semi manual modes the WB5000 gives you a broader than average choice of shutter speeds between 1/2000th of a second and 16 seconds. The menu is clear and logically organised with the added bonus of explanatory text appearing next to each setting's icon to briefly highlight its main use.