The on-again, off-again relationship of Steve Jobs and Eric Schmidt may be back on again.
According to a Friday afternoon post on Gizmodo, the Apple and Google CEOs were spotted at a Palo Alto, California coffee shop - out front on the sidewalk, mind you - chatting over coffee. The site's tipster even snapped photos, it would appear: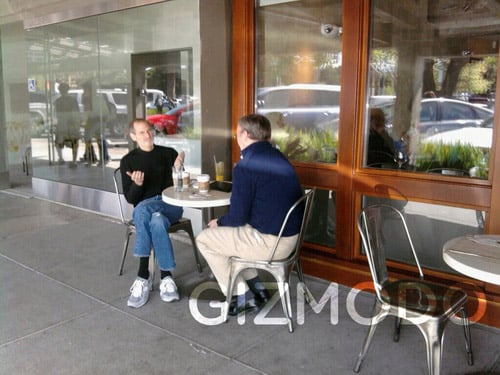 Gizmodo's tipster caught this convivial scene of talkative Steve and attentive Eric.
According to the tipster, Jobs did most of the talking - with one snippet of overhead conversation being the Cupertinian saying: "They're going to see it all eventually, so who cares how they get it?"
We'll leave it to your imagination what the unknown antecedent to "they" might be. Users? The Federal Communications Commission? Steve and Eric's wives?
And what is "it"? Some secret Apple/Google pact? Inappropriate content banned from the iTunes App Store? Sub-rosa political communications with Sarah Palin and/or the US Tea Party movement?
Whatever that cryptic comment might mean, the entire tête-à-tête seems bizarre in the extreme. Two love-'em-or-hate-'em billionaire tech gods, in broad daylight, sipping what one can only presume to be caffè lattes at a sidewalk table outside a coffee shop - which, by the way, Gizmodo identified as being owned by former Google chef Charlie Ayers.
Why was the notoriously private Jobs baring his all-too-familiar face for the world to see at all, let alone in the company of a man he allegedly can't stand? The oh-so-recognizable Jobs would attract attention if he were wrapped in a burnoose in a nargileh parlor in northern Yemen. And according to CNBC's Silicon Valley bureau chief Jim Goldman, multiple sources have told him that "Steve Jobs simply hates Eric Schmidt".
We can only assume this sighting was no accident. Jobs and Schmidt wanted to be seen together and to have reports of their parley leak out to the public at large.
And now it has. The real question isn't who are "they" and what is "it", but instead: Why do Steve and Eric want us to know they're in conversation? ®