This article is more than 1 year old
Radio lobby 'hides' 2m analogue receiver sales
Mysterious boost for DAB
Maybe the Great Digital Switchover won't be so difficult, after all. The UK's digital radio lobby group has redefined what an analogue radio is, giving DAB a stunning boost in market share.
You'll recall that in the Digital Britain report last summer, Lord Carter recommended that when digital listening (mostly on DAB radios) reached 50 per cent, broadcasters should set a date for switching off analogue. The 50 per cent figure wasn't the only criterion, but it was the foremost.
There was a problem. Throughout 2008, DAB's share of new receiver sales remained stubbornly stuck at 20 and 21 per cent of the market. Yet in the most recent figures for Q4 2009, conducted by market researcher GfK Retail & Technology, it had leapt to 28 per cent. Radio analyst Grant Goddard unearthed the reason why.
GfK says it's stopped counting sales of analogue radios embedded in MP3 players and some music phones, as well as set top boxes.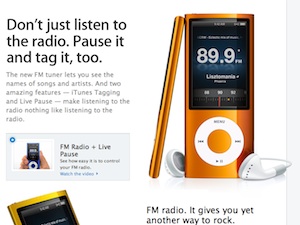 Now with FM: Apple's iPod nano
Gfk defines a "portable media player" as any portable music device that plays music and has a 3.5mm headphone jack. That definition increasingly includes a lot of phones - the leader by volume in Q1 was a Nokia touchscreen phone, for example. Since last Autumn, the category has included Apple's iPod nano. But although these are analogue radio receivers, they don't count.
Around two million sales of real (not phantom) analogue radios have been 'lost' by the creative accounting polling.
Writes Goddard:
It seems that the last resort for Digital Radio UK to be able to demonstrate to a sceptical public (and increasingly sceptical members of the House of Lords) that DAB radio is 'taking off' with consumers is to fix the figures to make it look that way. If you cannot convince the public to stop buying analogue radios, you can 'bend' the figures to magically make it appear that the public is buying fewer analogue radios.
He recently found that Digital Radio UK had been tinkering with the way it presents the raw data it sources from GfK. When claiming that 75 per cent of new radio sales are DAB, they excluded everything that wasn't a kitchen radio. FM radios fitted in cars, ghetto blasters and so on were conveniently forgotten.
More on the Digital Switchover shortly. M'Lordships have backed an analogue scrappage scheme, so hold on to your trannies. ®