This article is more than 1 year old
Why the Google antitrust complaint is not about Microsoft
It's about 'bundling' services with a search monopoly
Google should spend an afternoon with Shivaun and Adam Raff, the two very real people behind a recent EU antitrust complaint against its web search monopoly. To meet the pair - co-founders of the British price comparison site Foundem - is to know you would never describe them as Microsoft mouthpieces. They're computer scientists by training and search engineers by trade, and with their European complaint - echoed stateside with an FCC filing - they've made a case that deserves a level of attention denied by Google's remarkably successful efforts to paint them as Redmondian sockpuppets.
In their complaint, the Raffs make a pair of arguments. One concerns penalties and whitelists on the world's largest search engine, issues we examined at length in a feature story late last year. But the other details an issue the media has largely ignored. The Raffs also argue that with its so-called Universal Search setup, Google is using its search engine monopoly - which controls an estimated 85 per cent of the global market - to unfairly favor its own services over those of its competitors.
Universal Search is, by definition, a means by which Google inserts links from other Google services into prominent positions on its search results pages.
The EU complaint is under seal, but the meat of this argument can be found in the Raffs' filing (pdf) with the US Federal Communications Commission. "Universal Search transforms Google's ostensibly neutral search engine into an immensely powerful marketing channel for Google's other services," the filing reads.
"[It] allows Google to leverage its search engine monopoly into virtually any field it chooses. Wherever it does so, competitors will be harmed, new entrants will be discouraged, and innovation will inevitably be suppressed."
With help from data compiled by market-research outfits HitWise and comScore, the filing makes the case that in the three years since the debut of Universal Search Google has used it to harm competitors in two separate markets: online mapping and price comparisons. In providing Google Maps and Google Product Search (formerly Froogle) with prime placement on its own search engine, the Raffs argue, Mountain View has exerted discriminatory market power to squeeze out the likes of MapQuest and Pricegrabber.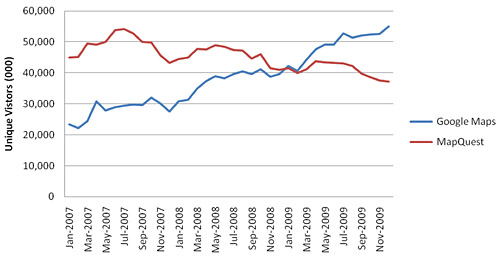 Unique monthly US visitors to Google Maps and MapQuest between January 2007 and November 2009 (Source: ComScore)
Google Maps' rise at the expense of former market leader MapQuest is well-documented, and the filing argues it would be unwise to say this can be attributed to the superior design of Google's mapping service. The Raffs cite data from HitWise showing that around the time Google Maps traffic first exceeded MapQuest's, more netizens were actively searching for MapQuest - ie specifically keying its name into search boxes. In a blog post from February 2009, HitWise said that 62 per cent of MapQuest's traffic came from searches for its particular brand name, compared to only 4.2 per cent with Google Maps.