Cloudkick has descended from the heavens, bringing its sky-high virtual server manager to real iron down here on earth. With its "Hybrid Cloudkick," you can monitor and manage your physical servers alongside instances floating in the so-called cloud.
In January, the San Francisco-based startup officially unveiled its eponymous service for overseeing server instances on Amazon's Elastic Compute Cloud and similar on-demand compute services. And now, the company is offering the same tools for use with physical machines in your own data center.
The web-based service offers load, CPU, bandwidth, and memory monitoring and diagnostics tests, and you can arrange for SMS and email alerts to be sent when thresholds are reached.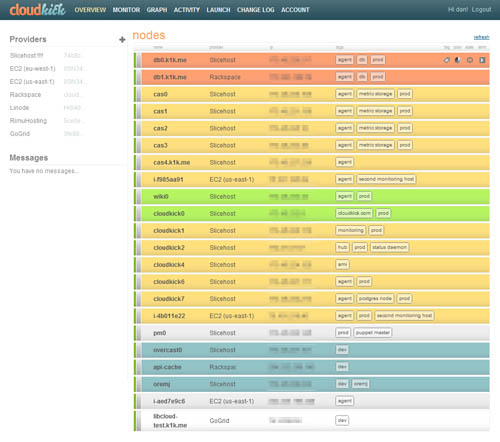 Cloudkick 'dashboard'
After installing a software agent on a dedicated server, Cloudkick CEO Alex Polvi tells The Reg, you can monitor and manage the machine from the company's existing online interface. The agent bundles Cloudkick's REST (representational state transfer) API, which means you can also build your own configuration and inventory tools. According to Polvi, the API works the same with dedicated machines as it does with sky-high virtual servers.
"This is our enterprise offering, " he says. "We're helping you bridge the gap between your cloud infrastructure and your dedicated machines behind the firewall and bringing them together." With a single line of code, for instance, you could compile a list of all servers you're managing across Amazon EC2 as well as your own data center.
What's more, Cloudkick's unified API lets you monitor and manage virtual machines across disparate cloud services. You might call it a cloud of clouds. When it first launched as a beta in Match of last year, it spanned Amazon EC2 and Slicehost, and it can now juggle instances across Rackspace Cloud Servers, Linode, GoGrid, the New Zealand-based RimuHosting, and the UK-based VPS.NET.
Yes, you can launch third-party instances directly from the service. But you can't move instances between clouds. The startup demoed such technology in April of last year, but it has yet to actually fold it into the live service.
The Cloudkick API also serves as the basis for the company's libcloud open source project, an effort to develop a standard means of building applications across disparate clouds. Linode, GoGrid, RimuHosting, and the VPS.NET are among those contributing to the project.
If you have 45 or fewer servers, you can sign up for the new Hybrid service via the Cloudkick website. Shops with larger data centers can contact the company. Some companies, Polvi says, are already using the service to monitor between 500 and 1000 dedicated servers. Some parts of the service are free, but others require fees of between $99 and $599 per month. ®