Greenpeace fears clouds will turn earth brown
'I am iPad, destroyer of worlds'
Right moves, wrong reasons
But while the environmental activist group applauds cloud-computing companies for "pursuing design and siting strategies that can reduce the energy consumption of their data centers," it faults them for doing so "primarily as a cost containment measure. For most companies, the environmental benefits of green data design are generally of secondary concern."
For example, Greenpeace has taken Facebook to task for its decision to site its new data center in Prineville, Oregon, where it will be powered by Pacific Power, a utility that Greenpeace claims is fueled primarily by coal.
"Increasing the energy efficiency of [Facebook's] servers and reducing the energy footprint of the infrastructure of data centres are clearly to be commended, but efficiency by itself is not green if you are simply working to maximise output from the cheapest and dirtiest energy source available," the report reads.
In an effort to shame Facebook into using renewable energy, Greenpeace has somewhat ironically set up two Facebook pages - one in English and a second in Spanish - to pressure the company to use renewable rather than coal-based energy. As of Wednesday afternoon, the pages had nearly 375,000 members.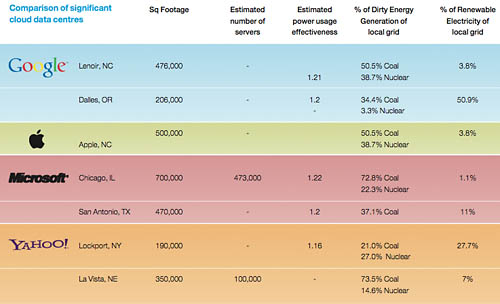 Google and Yahoo!, good. Apple and Microsoft, bad
As for the iPad - a device that The Reg once referred to as having "a data-center soul" - the report notes that Apple's $1bn data center in Catawba County, North Carolina, currently under construction, will get its energy from a local electrical grid that contains only 3.8 per cent renewable energy, and a full 50.5 per cent from dirty ol' coal and 38.7 per cent from nasty nukes. Google's data center in The Dalles, Oregon, by contrast, gets 50.9 per cent of its juice from renewable sources, according to Greenpeace.
Greenpeace and Apple have had a rocky relationship in the past, although the activists had nice things to say about Cupertino in its January Greener Electronics Guide - but that was after dope-slapping them back in 2006 for their environmentally unfriendly manufacturing.
It remains to be seen whether Greenpeace and Apple can remain buddies as the iPad, iPhone, and other Cupertinian devices suck more and more content from what Greenpeace sees as a rather dirty cloud. ®