This article is more than 1 year old
Western Digital My Book USB 3.0 drive
The fast show
For those without a USB 3.0-capable motherboard, an NEC PCIe USB 3.0 card is supplied with the My Book if you buy the full kit. Installation is straightforward, but does require additional drivers from the included CD, as even Windows 7 doesn't ship with USB 3.0 support. The My Book 3.0 feels light, yet solid and sturdy. It features a single LED status light, but lacks the LED usage meter present on other products in the My Book line.
CrystalDiskMark Results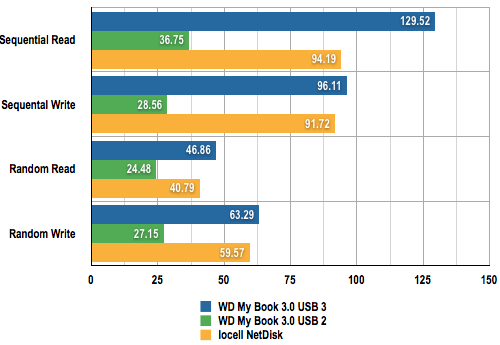 512KB data transfer speeds in Megabytes per Second (MB/s)
Longer bars are better
In general, the drive runs cool and quiet which suggests, even though WD does not let on, that this NTFS-formatted model utilises its line of Caviar Green hard disks. I would have no problems running this model on mu desk in close vicinity to the working area. A Kensington security slot is also included for those worried about envious co-workers lusting over your new USB 3.0 toy. Such jealousy is inevitable; just look at the performance figures.
To give you an idea of just how fast this is I've compared it to the next fastest drive Reg Hardware has reviewed, Iocell's NetDisk 351UNE which also uses Western Digital Caviar Green drives. The NetDisk, however, uses eSata but it is still the closest parallel, until Reg Hardware gets some more SuperSpeed USB 3.0 drives to test.
Clearly, USB 3.0 has a major advantage over USB 2.0, offering speed increases of approximately 100 per cent in random I/O operations and 250 per cent in sequential I/O operations. It is also clear that the limiting factor is now the internal bus of the hard disk used, rather than the connecting interface.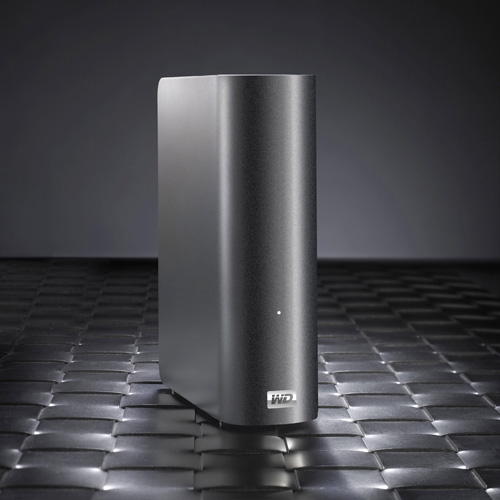 USB backward compatible, but with obvious performance penalties
With the release of the My Book 3.0, Western Digital has shown that external hard drives no longer need lag behind internal disks, while still maintaining compatibility with legacy systems. USB 3.0 is expected to enter mainstream usage when Intel adopts the standard in 2011, making these technological advances the norm among consumer applications.
Verdict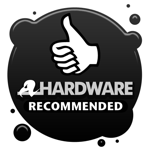 If eSata is not for you, or you are one of the few already equipped with a USB 3.0 capable computer and don't feel like waiting for all the other USB 3.0 products announced at CES, then go and pick up the My Book 3.0, as there's not much else out there. Go on, put those ports to work. ®
More Storage Reviews...

Cloud Engines
Pogoplug 2
Netgear
ReadyNas
NVX
Iocell
NetDisk
Buffalo
Linkstation
Duo

Western Digital My Book USB 3.0 drive
External storage with dazzling USB 3.0 performance and backward compatibility too.
Price:
£150 (1TB) £200 (2TB) RRP