RIM BlackBerry Bold 9700
---
Review Research in Motion's reputation for easy-to-use, no-hassle email - built on its BlackBerry brand - has been well-earned, and not just because it was the first to get on-the-go messaging right.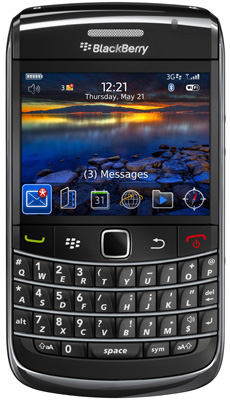 Now that other manufacturers have caught up on the email side, RIM has kept itself at the forefront by beguiling consumers with all the shiny extras we've come to expect from smartphones. The Bold 9700 is a case in point, with its high-quality screen, decent 3.2Mp camera, HSDPA and Wi-Fi connectivity, Assisted GPS and an app store.
A slimmer and sharper looking number than the original Bold, this svelte candybar is a nicely compact pocketful. Having the keyboard on the front allows it to be slimmer than any slide-out, and Blackberry's optical trackpad, which recently replaced the trackball, is a winner. You can set it to the sensitivity level you require and it'll have you whizzing around the menus with ease.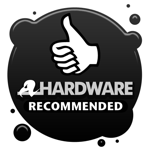 The keyboard itself is a bit of a mini marvel – there are four rows of 35 keys and despite their small size, the specially ridged keys are easy to distinguish under the thumbs. Though the keys are ever so slightly smaller than those on the original Bold, the ridging and sensitivity means you really don't lose anything in terms of usability – it's just as easy to type on whether you prefer to use thumbpads or thumbnails.
The 2.4in screen is beautifully sharp, though it's not touch sensitive and its small size works against the handset when it comes to watching video. Blackberry App World is growing steadily, though, with the main social networking apps available along with a hundred or so others. ®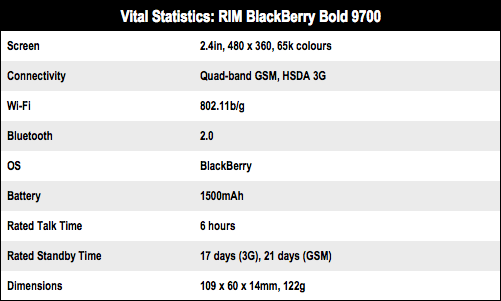 Next: HTC Touch Pro 2

RIM BlackBerry Bold 9700
The top-end device from the world's best-known maker of email-friendly phones.
Price:
From Free on contract. Sim free: £400 RRP
Similar topics
Narrower topics