Review Smartphone pioneer Palm was once down and all but out until it came back with this genre-busting gem of a handset. It's a compact, ergonomically designed handful which if not particularly slim, at least has the distinction of a genuinely different look and of plotting its own stylish course away from the established operating systems.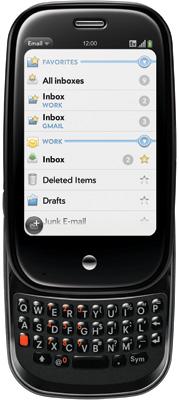 It has a glossy black minimalist look and a distinctive curving shape, with almost all its front taken up by its 3.1in capacitive touchscreen. This has multi-touch capability allowing you to pinch and zoom à la the iPhone when you're browsing the web or viewing pics.
The keyboard slides out smoothly to reveal four lines of 35 tightly packed keys. They're generally fine to use thanks to their unusual sticky-feel plastic and raised centres, but they aren't quite as easy to use as similarly compact efforts from Nokia and RIM.
The Pre's user interface is unique and largely eschews scrolling menus and lists in favour of single pages which you brush between, either using the screen, or the 'gesture area' immediately below it.
Palm's App Catalogue is much smaller than, say, the iPhone's but there's well over 1000 programs to choose from and the count is rising steadily. The 3Mp camera is nothing to write home about but it'll deliver decent enough snaps in good light. While there's a generous 8GB of memory on board, there's no option to add more by slotting in a memory card. ®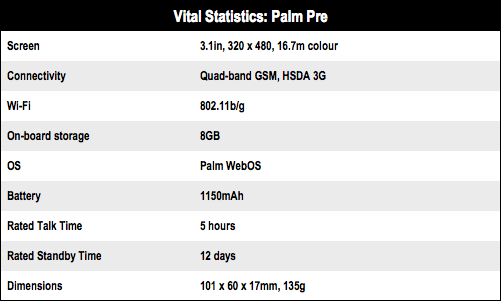 Next: Samsung Omnia Pro

Palm Pre
WebOS looks promising, but curious design choices and the cost of ownership don't do it any favours compared to its rivals.
Price:
From Free on O2 contract RRP