Updated The iPad apps have landed.
In preparation for the US release of its "magical and revolutionary" iPad this Saturday, Apple on Thursday began loading up the iTunes App store with scores of apps designed for Cupertino's long-awaited tablet/slate/e-reader/whatever.
As of 4:00pm Pacific Daylight Time (23:00GMT), about 2,600 apps had been added to the store, with more appearing on a regular basis.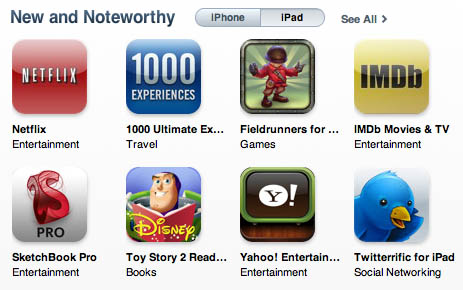 In the iTunes App Store, you can now choose between iPhone and iPad "New and Noteworthy" apps
The apps span multiple categories, with productivity, games, travel, education, music, utilities, business, books, lifestyle, and other groups all well represented. Prices are all over the map, with many being free, most being $9.99 and under, and only a few being more expensive.
Included in the growing list are iPad-specific versions of such iPhone stalwarts as Shazam, Pandora Radio, MLB.com 2010, and Metal Gear Solid. There are also a number of notable newcomers, such as Netflix and, of course, Apple's trio of productivity apps, Keynote, Pages, and Numbers.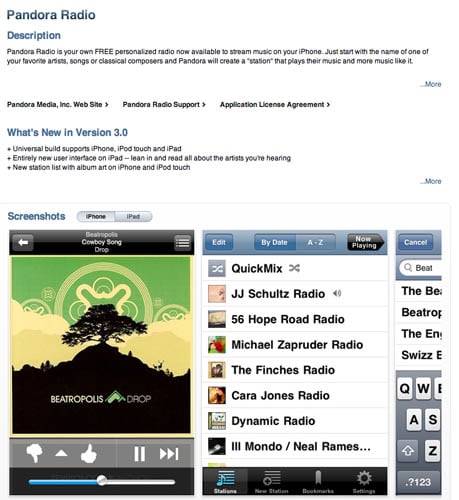 Some apps, such as Pandora Radio, have an iPhone version...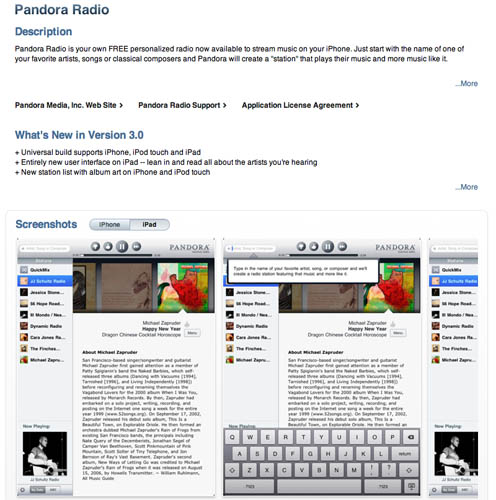 ...and a new iPad version, in which the big display makes a big difference
Of course, with the iPad not yet available to the hoi polloi, Apple's gun-jumping can be seen as having perhaps three purposes: a) a shakedown cruise before the inevitable Saturday-morning onslaught, 2) the Apple marketing machine further stoking the ever-building buzz prior to the release, or iii) Steve Jobs thanking the few industry movers, shakers, and reviewers who got their iPads early and reponded with an avalanche of glowing reviews.
Also on Thursday, Apple poked another thumb in Adobe's eye by adding to its website a page entitled "iPad Ready" that lists a dozen websites that will be able to display at least some of their video content on the iPad at launch due to their support of "the latest web standards" - meaning, of course, HTML5 video and not Flash. Included in the list are The New York Times, Flickr, Sports Illustrated, Vimeo, and others.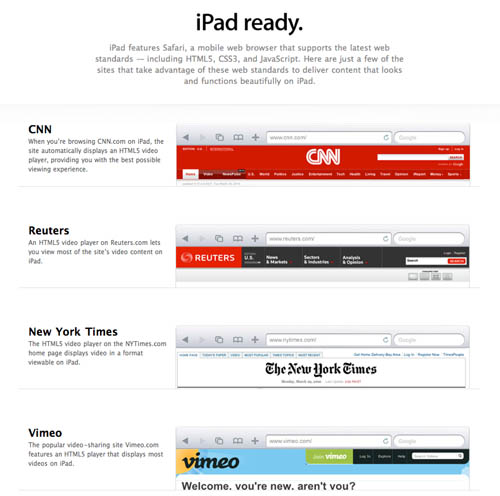 Apple, ever vigilant in its defense of "the latest web standards"
The page also asks: "Is your site taking advantage of the latest web standards?" and provides a form where developers can submit info about their websites, presumably so those sites can be reviewed by some Cupertinian minion to determine whether they're worth of inclusion on what the form describes as a "growing list" of compatible sites.
The iPad apps have landed, and the iPad is set to take off. ®
Update
The first iPad fart app, Nasty Sounds, has been added to the App Store - and order has been restored to the universe.