SGI peddles cut-down Altix UV supers
Nehalem for HPC
---
SGI is rounding out its line of Altix UV machines with new machines based on Intel's just-announced eight-core Nehalem-EX Xeon 7500 processors.
Which makes sense. After all, if you're going to the trouble of creating a massive 256-socket, 2,048-core parallel supercomputer based on your own interconnect, you might also try to sell cut-down versions of the same components, ramp up volumes to lower component prices, and seed the base for potential future customers of that big cluster.
As El Reg reported last November when SGI previewed the Altix UV supers that have been in development for years, and which replace the Itanium-based Altix 4700s that the company has been selling for the better part of a decade, the top-end Altix UV 1000 supers are based on two-socket motherboards rather than the four-socket boards you might be expecting from a Xeon MP-class processor like the Xeon 7500. This means that one of the four QuickPath Interconnect links on each processor socket can be confiscated to hook the blades into an 8x8 (paired node) 2D torus across 128 blades using SGI's NUMAlink 5 interconnect router.
The resulting Altix UV 1000 system has twice as many cores as the top-end Altix 4700, whose NUMAlink 4 interconnect hit the ceiling at 512 dual-core Itanium 9100s. When hooked together using the NUMAlink 5 interconnect on the Altix UV 1000s, the blades deliver 16TB of global shared memory - eight times the memory that the Altix 4700s can deliver.
That's not the peak performance of the Altix 4700, not by any stretch of the imagination. If you instead internetwork the 256 sockets in that big box, you can then lash together 32 racks of blades (that's eight 256 fat tree setups) in the 8x8 2D torus configuration, deploying a total of 16,384 cores.
SGI can even double it up to 32,768 cores - possibly by using a quad-node 2D torus, the company does not say - before hitting the upper limit of the UltraViolet hub at the heart of the architecture. That's a total of 4,096 Xeon 7500s, if you use the eight-core variants, for a total of 148.5 teraflops of floating-point oomph. SGI has plans to push on to petaflops, and is working to push the UltraViolet architecture to exaflops sometime before the rest of our hair turns white.
With the Nehalem-EX launch proper this week, SGI has added a midrange Altix UV 100 server and an entry Altix UV 10 to the lineup.
The Altix UV 1000 machine mounts blade servers and the NUMAlink interconnect vertically in a rack chassis. The Altix UV 100 is based on the same two-socket blades, but instead of mounting sixteen blades vertically in an 18U chassis, two blades mount horizontally in a 3U chassis.
The Altix UV 100 machines use the NUMAlink 5 interconnect to create a shared memory system that can span up to 96 processors (up to 768 cores) with up to 6TB of global memory; this configuration is accomplished with a 2D torus. The fully loaded Altix UV 100 system has 24 of the 3U enclosures in two racks, while the Altix UV 1000 has eight of the 18U enclosures in four racks. That top-end 768-core Altix UV 100 is rated at 6.9 teraflops.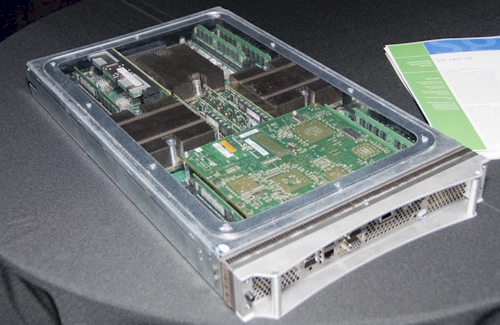 The blade server at the heart of the Altix UV 100 and 1000 machines
The Altix UV 10 looks and smells like a normal, general-purpose, rack-based x64 server. The box supports four Xeon 7500 processors and has 64 DDR3 memory slots for a maximum of 512GB of memory using 8GB, 1.07GHz sticks. Geoffrey Noer, senior director of product marketing at SGI, says the company is testing 16GB sticks to boost memory capacity on the box up to 1TB.
See how quickly 1TB of memory is going to sound normal? It won't take much longer.
The 4U chassis has room for eight 2.5-inch SAS or five 2.5-inch SATA-II hot-swap disks. It has ten PCI-Express 2.0 expansion slots, which is a lot of slots compared to some machines. It has one x16, four x8, and five x4 slots in total. The mobo used by SGI for this machine has four Gigabit Ethernet ports, and the chassis has four 850 watt power supplies in a 3+1 redundant configuration.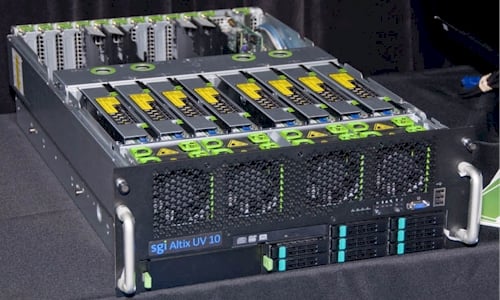 The SGI Altix UV 10 server
Not that SGI expects this Altix UV 10 machine to only be used for HPC workloads, but when using the fastest eight-core Xeon 7500s it's rated at 289 gigaflops with all four sockets loaded.
SGI expects to have the same software stack that runs on the Altix 4700, Altix UV 1000, and Altix UV 100 also run on the Altix UV 10. The entry box already supports Novell's SUSE Linux Enterprise Server 11 and the just-announced Red Hat Enterprise Linux 5.5, which has all the kernel tweaks to allow it to support the Nehalem-EX processors.
The Altix UV 10 also supports Microsoft's Windows Server 2008 and Windows HPC Server 2008 as well as SGI's own ProPack 7 extensions (math libraries and other tuning for HPC). VMware's EX Server 4.0 server virtualization hypervisor is also supported on the box. Support for RHEL, Windows, and ESX Server on the larger Altix UV 100 and 1000 machines is planned, but SGI is not saying when these programs will be ready to roll. The intent is to provide ProPack extensions for SLES, RHEL, and Windows, by the way.
The Altix UV 10 server is shipping today, and with four six-core 2.66GHz Xeon X7542 processors, 32GB of main memory, and a SATA boot drive, the machine costs $33,250. The Altix UV 100 and 1000 machines will start shipping to early-release customers in the second quarter, with a gradual ramp to full volume by the end of the quarter. SGI has not yet released pricing information on the bigger HPC machines. ®
Similar topics
Broader topics