This article is more than 1 year old
Opera alerts EU to hidden Windows browser-ballot
IE wizard obscures choice?
Just when it seemed like Microsoft's European anti-trust tangle on browser choice in Windows was over, trouble is stirring again.
Opera Software has told The Reg that it has informed the European Union of a possible problem with a fix that was designed to make Internet Explorer in Windows comply with EU antitrust law. Opera has also informed Microsoft.
Opera said the browser-ballot screen Microsoft introduced to Windows so users could pick a browser rather than take Internet Explorer by default is being almost completely hidden by a set of 10 IE configuration screens. Opera illustrated the problem at The Reg's San-Francisco, California, offices with a set of screen shots taken from a Thinkpad X31 running Windows XP SP2.
The fear is that PC users will click through these screens and won't bother to then pick one of the five browsers on offer on the browser ballot screen. The ballot offers Chrome, Firefox, Opera, IE, and Safari.
In a statement, Microsoft said that Opera's example only applied to a user "very likely" to be opening IE for the first time, which was "unrealistic" in the case of a user already running Windows on their PC.
A spokesperson told The Reg: "This scenario is very easy to reproduce in a test lab, but would occur only in unusual cases in the real world. For it to occur with the Browser Choice screen, the user would need to have IE set as their default browser and have never configured it for use. Opera's example, where a Windows XP user has rejected installation of IE 8 for the year it has been available but suddenly decides to install it is not realistic."
The ballot screen was introduced after a settlement between Microsoft and the EU last year, to close the Commission's investigation of Windows and IE.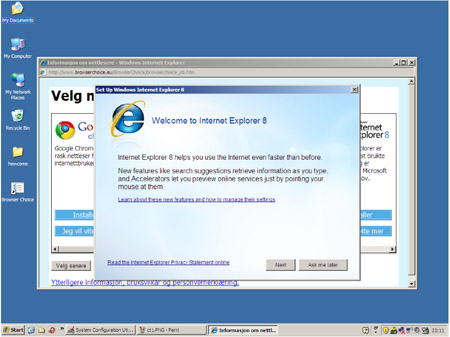 Spot the browser-ballot screen: one of 10 IE set-up Windows to click through
Hakon Wium Lie, Opera's chief technology officer, said Opera hasn't decided whether to make a formal complaint to the EU, which would re-initiate the investigative machinery. It was Opera's 2007 complaint over browser access in Windows that sparked the investigation and produced the settlement.
The Commission has the power to fine Microsoft for not complying with antitrust law. Microsoft was fined $1.39bn (899m euro) in 2008 for not meeting the terms of an earlier antitrust ruling in a separate case in 2004.
According to Lie, the ballot screen is now being hidden by the IE configuration wizard when you download IE and the ballot screen in the same update from Microsoft's Windows Update service.
The browser choice screen is offered by Microsoft as an automatic download for Windows XP, Windows Vista, and Windows 7, to reach PCs already running the operating system rather than new copies of Windows 7 that will be installed fresh.
Lie said the problem could be that the browser ballot screen runs in IE, so IE must therefore be configured when it's been downloaded and set up for the first time.
Lie said: "When you've been through the 10 screens of IE settings, you are limited with what you can be bothered doing next."
This is not the first challenge to the browser-ballot screen. Opera, Google, and Mozilla last year challenged the screen before settlement was signed, saying the ordering of the browser logos alphabetically would give priority to IE, while the IE logo itself would be too familiar and distort the choice. Last month, Microsoft updated the ballot-screen's algorithms following further criticism that screen was favoring the placement of Google's Chrome and IE.
Lie noted Opera has better things to do with its time than chase Microsoft, but: "I'm a little stubborn on this, I want this thing to work." ®