Frisco fanboi frenzy on 'iPad Day'
A 30-mile urban shopping saga
But then...
I then overhead another Appleonian say that he had heard that the third San Francisco Apple Store - all the way across town in the Stonestown Galleria - had, indeed, received their relief shipment. Back into the Mini I went.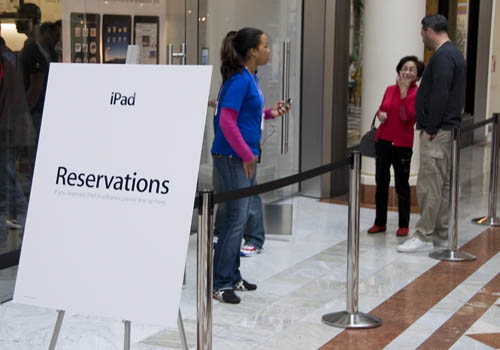 There was not a single pre-registered soul in line at the Stonestown Galleria
As I entered the marble-clad Stonestown mall, I was shocked - shocked! - to discover that there was literally no one in the reserved line at the Galleria's Apple Store, and that there were only two people in the line of the unprepared. Even before I took my happy place in that line, it had shrunk to one.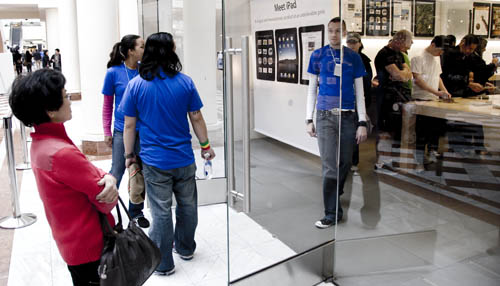 At 10:35, the Stonestown Galleria had no pre-registered folks, and one walk-up woman
According to the happy blue-shirt manning the line, the Stonestown Store had decided not to worry about the 3:00 p.m. cutoff, and had begun to sell their pile-o-'Pads early in the day, bolstered by the reinforcements, but giving priority to reservation holders while keeping an eye on their stockpile in case they had to cut off the non-reserved. They were just being, well, rational and independent about the whole thing.
After a five-minute wait - and after having driven 15 urban miles to three radically different stores - I had my iPad. It was 10:48 a.m.
I then decided to retrace my route, and see how line-lubbers at the other two stores were fairing. As I drove by the Chestnut Street store, it appeared that they had, indeed, received their iPad reinforcements - the reservations line had vanished and the non-reserved line was down to eight.
Those waiting at the downtown Stockton street store, however, were not so lucky.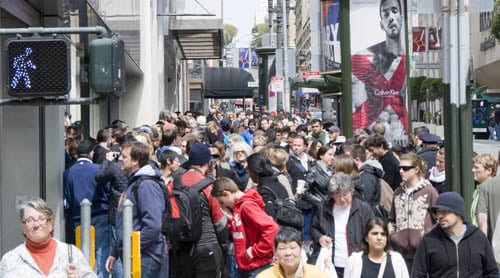 At noon, the lines - both reserved and non-reserved - were still long on Stockton Street
The lines there were still filled with hundreds of folks. When I asked one on the blue-shirted minions guarding the lines whether her store had let any non-reserved people in yet, she told me that they had, indeed - even though when I arrived this time at the store, it was but noon.
She said that there was no formula guiding how they decided when to let the non-reserved jump ahead of the reserved - even though the wait for the non-reserved was still "somewhere between one and two hours." The store's management was just playing it by the seat of their collective pants, trying to keep both lines moving and people generally happy.
And, from the looks of it, they were succeeding. When I thanked her for the info and gave my leave, she responded, "Have a nice iPad Day!"
And, all in all, I did. I had swapped tips with some fellow fanbois, been treated with smiles and courtesy by every Appleonian with whom I had spoken, had been able to listen to all of "Wait, Wait, Don't Tell Me" as I drove through my favorite city, and had bought myself an iPad using The Reg's money.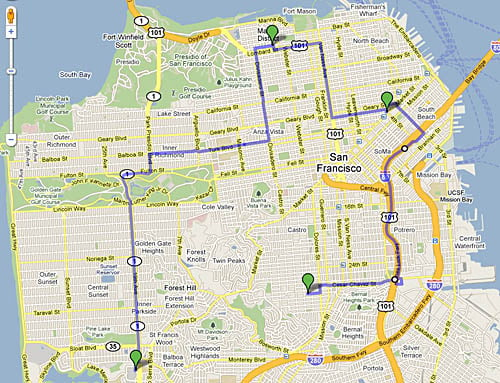 Starting from home (bottom right), I travelled counterclockwise to the three San Francisco Apple Stores, then back
I had also learned an important lesson: despite what Petula Clark may have advised, sometimes it's simply not a good idea to go downtown. ®