When does The Register take interest in a $50 sports watch? When it comes with an SDK and wireless connectivity, and packing a screwdriver.
The Chronos EZ430 from Texas Instruments is no consumer product, despite its appearance and low price. It's really a development platform designed to show off what TI's embedded sensor chips can do, and is sold below cost price. But for the software hacker who'd like some hardware to play with there's no better place to start doing fun stuff.
This isn't really a review of the watch - a review would require comparisons to similar products and discussion of how completely the product meets its design goals, but the Chronos has no design goals or similar products to which it can be compared, so we'll just stick to telling you what the Chronos can do and what we did with it.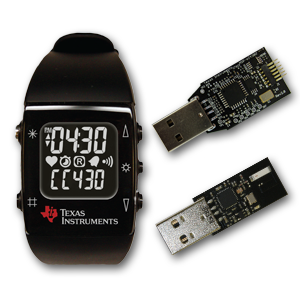 The $50 package comes with the watch, a USB dongle with which it can wirelessly connect, a USB cradle for uploading new wrist-mounted applications, and the aforementioned screwdriver, along with a couple of spare screws. The screwdriver is used to dismantle the watch - necessary when fitting it to the cradle - and TI clearly expect you to lose a few screws in the process.
There's also quick-start manual, and on the accompanying CD there's the SDK and example applications including remote a control panel to demonstrate remote sensing, and an application for instructing the watch to create sensor logs.
Those logs can record data from any of the watch's sensors - which comprise a temperature sensor and acceleration on three axes, with the results gathered into an Excel spreadsheet for analysis.
The watch can also display the data from any of the sensors on its two-line LCD screen, but don't expect to be able to email messages on the limited screen. There's also a stop-watch, with lap timer and the usual time and date, but to use the really interesting features you'll need to connect the USB transceiver to your PC.
In Europe that transceiver operates at 868MHz. There's a US model at 915MHz and you have to specify which you'd like on ordering. Using the wrong one would be illegal as the frequencies concerned require a licence if used in the wrong territory, so if you're prone to pond hopping you'll need to order two or get hold of the soon-to-be-launched 433MHz model which can be used everywhere.
Once the transceiver is installed and the USB dongle connected you can connect the watch to your PC. It comes with three applications preinstalled: one to synchronise the time and date settings, a second which sends key presses to the computer which can then be mapped to desktop functions (the included software can be used to control a power-point demonstration, or iTunes playback), and a third which streams accelerometer data (and button presses) for more-interesting applications.