Global chip sales took a 1.3 percent sequential dip to $22bn in February, according to the latest estimates form the Semiconductor Industry Association.
While the February numbers were a bit off the $22.3bn in worldwide semiconductor sales in January, they were up 56.2 per cent compared to a truly awful February 2009, when only $14.1bn in chips were peddled.
"The February sales numbers reflect continued recovery of sales of semiconductors, with demand principally driven by growth in sales of electronic products in emerging economies," explained George Scalise, president of the SIA, in a statement accompanying the figures.
"Unit sales of the two leading demand drivers for semiconductors - personal computers and cell phones - are now projected to grow in the low - to mid-teens in 2010. While the 56 percent year-on-year growth reflected in the February sales number is encouraging, it is important to note that January and February of 2009 marked the low point for the semiconductor industry during the worldwide economic downturn."
The SIA does a three-month rolling average of semiconductor sales to smooth out some of the choppiness in the data. And as you can see from the chart below, a huge cavern in semiconductor revenues opened up in 2008, with chip sales falling back to levels not seen since the late 1990s when they were climbing or the recovery from the dot-com bust and another global recession that hit in the early 2000s.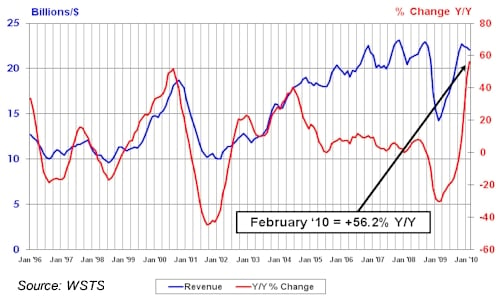 Sales have rebounded to something close to normal in recent months and prognosticators have started to loosen up a bit and get rosier in their forecasts for chip sales this year.
"There are encouraging signs that the global economic recovery will continue, and we remain cautiously optimistic that there is upside potential for growth beyond our November forecast for 2010," Scalise added in his statement.
At the time, the SIA was expecting worldwide chip sales to grow 10.2 per cent, to $242.1bn. A month ago, the chip counters at Gartner predicted that the semiconductor market would see 19.9 per cent growth in 2010, to $276bn.
Drilling down into the February numbers a bit, SIA reckons that chip sales in the Americas fell 3.7 per cent sequentially, to $3.61bn, while sales in Europe were off 1.8 per cent, to $2.88bn. In Japan, they were down 1.1 per cent, to $3.44bn. And, in yet another demonstration that the IT industry's hardware segment has a center of gravity located outside of the United States, more than $12.1bn in chips were sold in the Asia/Pacific region.
On an annual basis, chip sales were up 47.8 per cent in the Americas, 36.5 per cent in Europe, and up 23.7 per cent in Japan. But in the Asia/Pacific region, on an annual basis, semiconductor revenues rocketed up by 78.6 per cent. People all over the world are buying more computers and electronics that use semis, and Asia companies are buying more components to build them. ®