Beijing scientists are poised to carry out DNA testing on a mystery beast captured by hunters and dubbed the "oriental yeti", the Telegraph reports.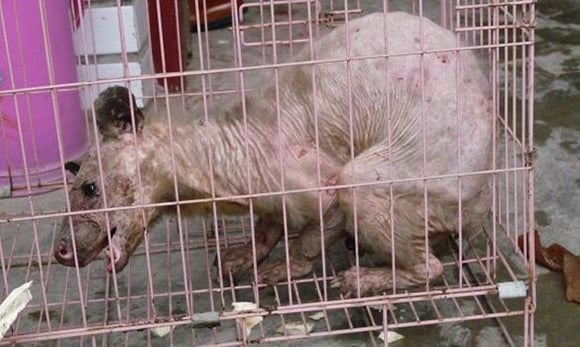 The creature was snared in Sichuan province "after locals reported spotting what they thought was a bear". Hunter Lu Chin said: "It looks a bit like a bear but it doesn't have any fur and it has a tail like a kangaroo. It also does not sound like a bear - it has a voice more like a cat and it is calling all the time - perhaps it is looking for the rest of its kind or maybe it's the last one?
He concluded: "There are local legends of a bear that used to be a man and some people think that's what we caught."
A quick trawl of the interwebs reveals a rather more plausible explanation for the animal: it's simply a Binturong with a nasty case of mange.
Aficionados of legendary beasts may recall the case of the Texan chupacabras - the fearsome goat-sucking hell critter which, some suggested, was actually either a Xoloitzcuintli or mangy coyote:
®