This article is more than 1 year old
HTC Desire
Living up to its name?
Review Much has been made of the fact that the HTC Desire is really Google's much-touted Nexus One under the hood. But, truth be told, despite HTC's considerably lower profile among the general public, the Desire has several features that mark it out as superior not just to Google's smart phone debut, but also to the vast majority of smartphones available on planet earth.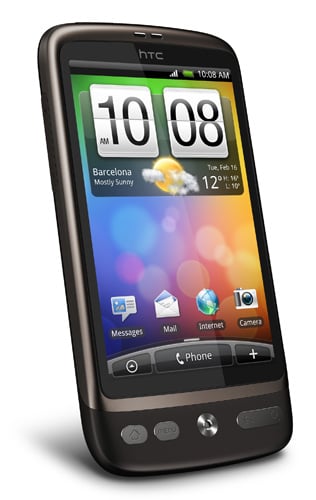 Tasty Éclair: HTC's Desire
Following hard on the heels of the HTC Legend, the Desire is at first glance a more conventional looking handset. That's no bad thing though – it doesn't have that rather pointless chin, and instead uses the space afforded by its 119 x 60 x 12mm and 135g size to cram in more screen acreage. Despite the biggish numbers, its relative thinness means it feels fairly modest in the pocket.
Beneath the screen are separate home and menu keys, a combined back and full search button (it will offer search results for the phone and for the web) and a small optical track pad with a nicely tactile pressing action. These are sturdy hard buttons by the way, rather than the Nexus One's touch-sensitive strip and trackball.
The sides are barren save for HTC's trademark sliver of a volume rocker, with a micro USB power/sync slot on the bottom and 3.5mm headphone jack and power/standby button on top. It's sturdily put together and the back is of non-slip rubberised plastic with camera lens, small LED flash and a loudspeaker grille all near the top. Overall, it feels sturdy and solid, and even gets the edge on the Legend by not having a sharp edge around the casing, so it feels a little bit smoother against the ear.
The 3.7in OLED screen offers 480 x 800 pixels and looks superb. Which would be fine on its own, except that its capacitive responsiveness makes it even better, accurately distinguishing between brushes and presses and offering multi-touch pinch to zoom too. The Desire comes with the latest incarnation of HTC's justly praised Sense user interface, which runs on top of the Android 2.1 (Éclair) operating system and, besides the track pad, is the biggest distinction between the Desire and the Nexus One.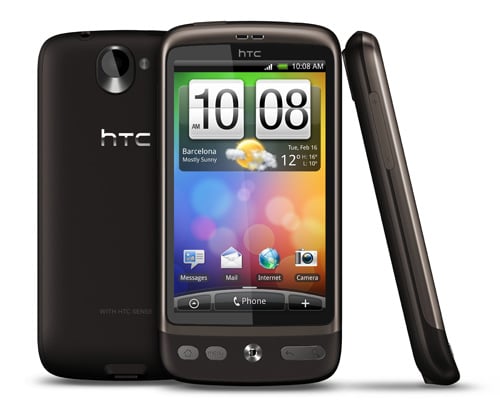 The Sense UI adds further enhancements to the Android experience
There are seven home pages rather than the usual three (or the Nexus' five), each of which can be populated with standard Android widgets plus a few specials from HTC. When you pinch any of the homepages inwards you get all seven in one, which can help if you've forgotten what you've put where. It's easy enough to brush between home pages in any case.