This article is more than 1 year old
How a Tory gov will be the most tech-savvy in history
Election 2010: A brave new twittocracy
Comment When the Dragon's Den star Duncan Bannatyne realised his wife had left her dress on the train on the way to a charity dinner last Saturday he called lost property.
Unfortunately, being a Saturday afternoon, lost property was closed and his wife was distraught.
Fortunately Duncan's 50,000 Twitter followers came to the rescue. He made a single tweet offering a reward of £1000 for the safe return of the item of clothing. Amazingly the dress was indeed quickly located and returned.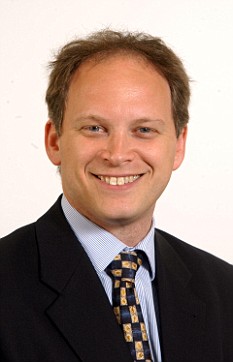 Grant Shapps
The finder, a Virgin employee, refused the reward, suggesting instead it go to charity:
johno4501@DuncanBannatyne Sir thanks for you kind offer i do not require any reward if you wish you can make a donation to Clic Sargeant charity.
Even with a large 50,000 twitter following, it's hard to imagine how the desperate dress search tweet could really end up being read by one of only a handful of individuals who would realistically be in a position to help. And how this could all happen fast enough for the dress to be returned in time for the gala dinner that evening? After all, how many people would have had access to the closed lost property department out of hours?
Fans of the classic Six Degrees of Separation theory will however be less surprised by this happy outcome. The principle goes that everyone can reach anyone within six connections. Let's say you want to get a message to President Obama. You can try to work out yourself whether you might be able to achieve this within six steps. Perhaps your brother-in-law knows someone who has a friend, etc. You might just get there.
But what's this all got to do with running a 21st century government?
Not a lot at present because when current Ministers contemplate using technology they tend to think in terms of building new and usually expensive websites. Citizens find out about the new site, typically through a multi-million pound TV ad campaign, and then use it to look up some information on a database which drives the website.
Other than the fact that this involves the internet, this isn't really any different from the way in which governments have distributed information through the ages. It holds everything centrally and invites others to come and look it up.
The state stores all the important data. Citizens are expected to go and retrieve it. And it's this basic approach which is extended to all manner of government activity. For example, if the government has a vacancy in one of its departments it will place a job ad in the newspapers and wait for applicants to respond.
But there is now a more efficient, less bureaucratic way for government to work.
Taking that job ad example, let's assume that the department tweets about the job opening.
Now, assuming the department has a Twitter following and that the message gets re-tweeted – where the original message is re-broadcast by others to their own lists – it would surely only be a matter of minutes before applications started flowing in from highly qualified candidates. And the cost to the treasury? Pretty much nil.
A Conservative government will respond to new technology in a completely different way to this Labour administration. Rather than defaulting to the creation of enormous new databases in the style of the late and over-budget NHS system, we will look to leverage the immense power of so-called cloud-based computing where information is decentralised, shared and improved by the wisdom of many.
Using technology to blow open the closed world of government is also the principle behind our recent Open Source Planning Green Paper. Just as Apple, the inventors of the iPhone, ensured that their product was 'open source' - meaning that software developers could come along and invent ways to use the phone going well beyond what Apple themselves had initially imagined - so too will our planning policy benefit from involved citizens achieving more than central government could ever manage on its own.
But we won't stop there.
By introducing a powerful new 'Right to Government Data', we will enable the release of government datasets to be manipulated and presented by others, thereby empowering citizens with more useful, accurate information.
We'll publish online every item of central government spending over £25,000 and local expenditure over £500. As well as publishing every contract in full.
And we'll throw open democracy too by introducing a technology enabled Public Reading Stage to each Bill so the wisdom of crowds can improve laws and spot potential problems.
So a Conservative government will be humble enough to know that we won't have all the answers to every problem in-house, but that by leveraging the immense wisdom of the British people we can help to solve policy problems through a new and radical open source approach to government. ®
Grant Shapps is Conservative Member of Parliament for the Welwyn Hatfield constituency. He has served on the Public Administration Select Committee and is currently shadow housing minister. His voting record is here.