Apple's iPad - the device for execs who create nothing
66 app makers woo office fanbois
After the iPad was unveiled in late January, someone inside Apple quietly contacted the San Diego-based startup Mellmo to "encourage" the company to port its Roambi app to the keyboard-free device.
Clearly, other app makers worked hand-and-hand with Apple prior to the tablet's launch this past weekend. Or at least semi-hand-in-hand. But Mellmo is a bit different. Roambi is a business app - a tool that takes classic business reports built with the likes of Excel, SAP Crystal Reports, or Salesforce.com and coverts them into handheld eye candy.
"They asked us if we thought it would be possible to have [an app] ready [in time for launch]." Mellmo founder and president Quinton Alsbury tells The Reg.
On April 3, when the tablet finally hit stores, Roambi was the first app that appeared when you visited the "business" section of the iPad App Store - appearing smack dab in the middle of the "spotlighted" tools - and it was joined by 65 other business apps, including IPadian clients for use with WebEx, GoToMeeting, and Rackspace Cloud Servers.
Mellmo was founded in January 2008 with the sole purpose of putting business apps on the Apple iPhone. This was before Steve Jobs deigned to offer a SDK for the handheld - and well before the world realized that the Jobsian handheld was a viable business device. Roambi debuted on the Jesus Phone in May of last year, and naturally, now that the app is on the iPad, the company is equally confident that the Jobsian tablet will prove to be viable business device as well - and even a replacement for the laptop.
Yes, the iPad lacks a (real) keyboard. But Alsbury - the man who designed the Romabi iPad app - argues that at the least at the top end of a company, keyboards aren't that important. Upper-management types, he says, don't need a full laptop. "[The iPad] is going to be pretty big [as a business device]," he says. "As you go up the ladder [at a business], the number of people actually creating content gets smaller and smaller...There are a huge number of business users who don't need a whole laptop."
Peter Jackson, CEO of the San Francisco-based GroundWork, an outfit that offers tools for managing IT infrastructure, concurs. "At my level, I don't really create. I consume." And when it is time for creation, the iPad's software keyboard - at least in landscape mode - lets you type at a halfway decent clip.
Alsbury's argument isn't nonsense. And the Roambi client is designed specifically for these sorts of non-creator execs. The app is not for building and editing reports. It's for displaying them. It's a new window into data sitting housed by back-end tools such as SAP and Salesforce, turning them into the kind of interactive Jobsian graphics an executive can surely relate to. It might grab SAP data and, say, turn into interactive bar graph. Or a pie chart. Or a graphical table. Or, well, you get the idea.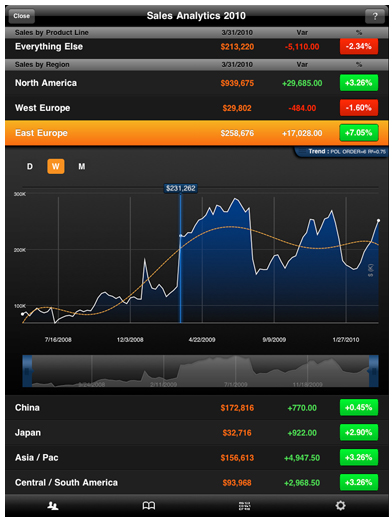 Roambi on Jobsian talent
The question is whether other business types will carry the iPad. Mike Mayo, who designed the Rackspace Cloud Pro app, a means of managing server instances on the company's so-called infrastructure cloud, argues that the device at least makes sense for IT professionals, pointing out that the company already has a large number of admins using its iPhone app. "The iPad is still easy to carry around - but [with its larger screen], you can see a lot more - do a lot more."
The Rackspace client lets you backup server instances, create new servers from backups, reboot instances, rename them, resize them, and delete them.
Of course, the iPad can't replace a phone. And Mayo acknowledges it can't replace the admin's laptop. But IT types have been known to carry, shall we say, multiple devices.
Bootnote
Roambi does require a back end. With the free Roambi Lite web service, you can publish reports pulled from Excel and the like. With the for-pay Roambi Pro, another web service, you can grab data from Excel, Google spreadsheets, or Salesforce CRM. And with Romabi Enterprise Server (ES), an app you install on your own servers, you can tap SAP Crystal Reports as well.
Next Monday, April 12, the company will introduce a new version of its Enterprise Server - ES3. This will play with IBM Cognos, Microsoft Reporting Services, and Microsoft SharePoint. It wil also tap Google Apps - which, though supported in Roambi Pro, isn't currently an option with ES. ES3 pricing will start at $795 per user, with a minimum of 50 users.