Review The 256GB Crucial RealSSD C300 breaks new ground, as it is the first SSD to use a Sata 3.0 interface with its theoretical connection speed of 6GB/second. Alas, the use of Sata 3.0 interface on a conventional hard drive wasn't so convincing, as revealed in Reg Hardware's Seagate Barracuda XT review. In closing that piece, the thought hung in the air of how a solid State Drive with a Sata 3.0 interface would perform. Now, that time has come.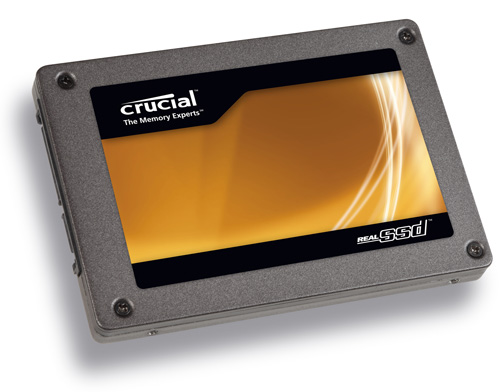 Pulling a fast one? Crucial's RealSSD C300
The cache chip and 16 MLC NAND chips inside the C300 are made by Micron, Crucial's parent company, while Marvell supplies the 88SS9174-BJP2 controller chip. Naturally, you require a Sata 3.0 port to get the full effect of the Sata 3.0 drive.
The C300 was supplied with a HighPoint Rocket 620LF PCI Express 2.0 x1 card that uses a Marvell SE9128 chip to provide two Sata 3.0 ports. Apparently, the Marvell 88SS9174-BJP2 can control up to 16 flash chips. The number of chips used dictates the capacity of the drive and also affects the write speed performance.
The RealSSD C300 is listed in capacities of 64GB, 128GB and 256GB. The 64GB doesn't appear to be on sale yet, but all three models have a claimed read speed of 355MB/s. Write speeds vary with capacity: 70MB/s for the 64GB model, 140MB for 128GB and 215MB/s for the 256GB. As the 256GB drive contains 16 flash chips it is reasonable to speculate that the 128GB uses eight chips and the elusive 64GB model probably has four.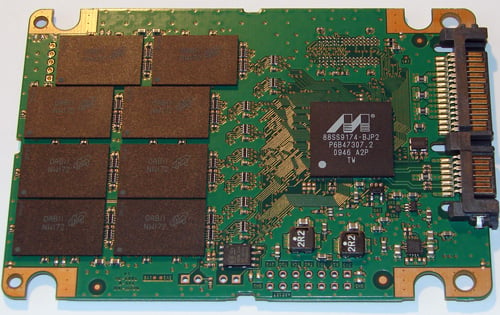 The 256GB SSD circuit board, the other side is also populated with eight chips
In appearance, the C300 looks understated with a case finished in gunmetal grey. The drive measures 9mm in thickness but if you undo four screws and remove a plastic spacer it slims the drive to 6.5mm so you should have no trouble installing the C300 in any laptop that you choose. It is more expensive than the Crucial M225 and similarly priced to both the 256GB Kingston SSDNow V+ and Patriot Torqx.