This article is more than 1 year old
BlackBerry sees iPhone shrink in rear view mirror
Android grows, Palm shrivels
Research in Motion's Blackberries have extended their lead over Apple's iPhone as the top smartphone platform in the US.
During the same period - December 2009 through February 2010 - Google's Android platform saw a surge of nearly 140 per cent to 9 per cent overall, while Palm's share dove 25 per cent, down to 5.4 per cent.
Microsoft's mobile presence is not doing so hot, either, with a dip of over 20 per cent to 15.1 per cent.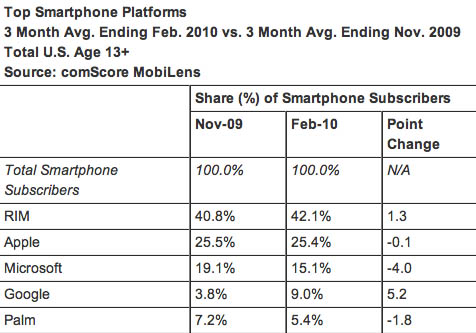 Apple's slippage is miniscule - Palm's is not (source: comScore)
These figures come from the most recent mobile-phone survey conducted by comScore, which compared - among other things - US smartphone subscribership during that period with the three previous months.
Although the Android platform's percentage increase is impressive, phones based on it have a long way to go before they catch up with RIM, which holds a 42.1 per cent market share, and Apple, which dropped one-tenth of a percentage point to 25.4.
Fans of the iPhone have little to worry about, however. Sales of the iPhone 3G also slipped before the 3GS was unveiled last June 8 and shipped on June 19. Apple plans to introduce its next version of the iPhone OS this Thursday, and most observers predict that new hardware will appear mid-year.
But all the while that Apple's iPhone and a gaggle of Google Android phones have been grabbing all the headlines (and Palm as well, although for less encouraging reasons), RIM has been quietly churning out its popular Blackberries, and - in this last reported quarter, at least - extending its lead. ®