O2 has been rated Britain's best broadband provider, but the scores tell a different story.
Between September 2009 and February 2010, just over 100,000 visitors to broadband comparison site Broadband Expert were asked to rate their providers. According to the site, O2 was top, with an average satisfaction rating of 77 per cent.
AOL came last, scoring just 56 per cent, well below the average rating of 64 per cent.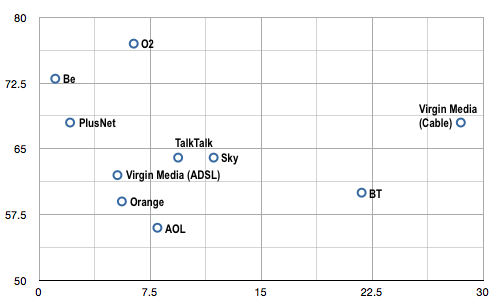 Satisfaction (%, vertical axis) vs User Base Share (%, horizontal)
Source: Broadband Expert
But plaudits for quality don't directly correlate to the votes consumers give to providers by electing to take up their services.
O2 was the provider of just 6.4 per cent of respondents, while AOL accounted for only eight per cent of the 104,109 surveyed broadband users.
Virgin Media's cable broadband service scored 68 per cent in the ratings, putting it in third place, but it garnered 28.5 per cent of the votes.
So while it's not as highly rated as O2, rather a lot more paying punters have voted with their feet by selecting it as their provider.
Virgin's nearest rival, BT, which was the broadband provider of 21.8 per cent of the 104,109 respondents, was rated on satisfaction at 60 per cent.
Of the providers with comparable user bases - at least as far as Broadband Expert's survey goes - Virgin's ADSL scored rather less well on satisfaction that the cable service did, leaving it behind O2, Sky and TalkTalk but ahead of Orange and AOL.
The two least used providers in the list were Be and PlusNet. The former was rated more highly for customer satisfaction: 73 per cent to PlusNet's 68 per cent.
Broadband Expert Commercial Director Rob Webber noted that the average satisfaction score - 64 per cent - was up seven percentage points on last year's survey, so the providers must be doing something right.
We look forward to seeing how well this year's satisfaction ratings change the various providers' market share figures in next year's survey. ®