This article is more than 1 year old
Mandybill: All the Commons drama
Web-blocking goes through, orphan works fails
'Likely to infringe'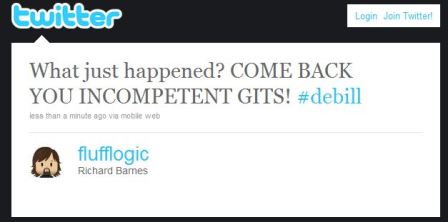 On Twitter, the divisions caused some confusion
Watson, who was in no way playing to his Twitter gallery, said he feared the tyranny of the "lickspittle media oligarch who gives instructions from his tax haven". If Twitter was an electorate, Watson would have won by around 3,000 votes to one by this point. Those are the kind of numbers a dictator would be comfortable with.
Watson said he thought a statutory license would solve the problem – a confiscation of private property (from the lickspittle media oligarchs) to be handed over to the People of a Free Freetardia – and said that's how a Labour government had solved the problem of Pirate Radio in the 1960s. The analogy doesn't quite scale, obviously.
Unfortunately, with a few open goals to aim at, many of the backbench objections were about as coherent.
One MP said the trawl would only catch children, the inference being grown-ups don't use Bittorrent. Another MP said the legislation was unenforceable, because people could change their internet providers as easily as they could change an email addresses, and if disconnected they'd just create another Hotmail account to get on the internet instead.
Hemming said that publication of FOIA requested-material that had stamped with the crown copyright could be blocked. This was not in the Amendment the government countered with last week, it must be said, which would permit publication in the public interest.
Foster scored some better points, wondering why on earth web blocking could be applied to sites "likely to infringe", and why an injunction needed to be "indefinite"?
These are terrible amendments, but in their haste to pursue fictional grievances that catch headlines, such as Open Wi-Fi and disconnections, the Open Rights Group is guilty of incredibly naive tactics, and has helped unleash some really dangerous legislation into the wild.
(They could take a leaf out of the Stop43 group's successful campaign. Rather than trying to get their names in the papers as Freedom Fighters, using enviro-scare tactics, the photographers quietly stopped the bad legislation through rational persuasion and did so using fewer resources - and less time.)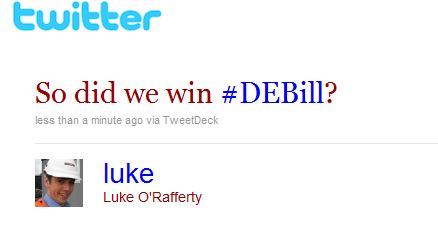 On Twitter, latecomers were simply confused
Now what?
It's back to the Lords. For a more detailed update see here.
The Mandylaw may not survive the cooler appraisal of 'Superaffirmative' scrutiny in the next session, but Ofcom - which has the task of devising the "technical counter measures" - may get cold feet.
The timetable is for a six-month consultation period over Ofcom's Code. This is likely to stretch to nine months when the EU is included. Then Ofcom implements the code for at least one year, with no further action against users or ISPs. Only a year after that, the throttling can begin. ®