Mandybill: It ain't over yet
Lords may kill Bill
Updated It's a bit premature to declare winners and losers from the Digital Economy Bill just yet. The Open Rights Group may have given up campaigning – having already turned its front page into a giant click-through recruitment poster* - but the fight's not over. The legislation may yet fall.
For all the hot air blown over the floor of the House of Commons last night, the wash-up process continues. The Bill bounces back to the House of Lords tonight - now depleted of the Clause 1 (extending Ofcom's powers), Clause 29 (the regional news fund), and Clause 43, (orphan works/collective licensing provisions). It's sprouted 'New Clauses' 1 and 2, including the notorious web-blocking powers.
The Lords may make still more changes, in which case the Bill will ricochet back to the Commons again, until agreement is reached. This may be enough to wear away the necessary consensus. If this happens, the entire Bill is lost. Since the Bill carries the support of the majority of both houses, this is not likely. Nevertheless the process must end at some time tonight, even if tonight strays into the early hours of Friday morning.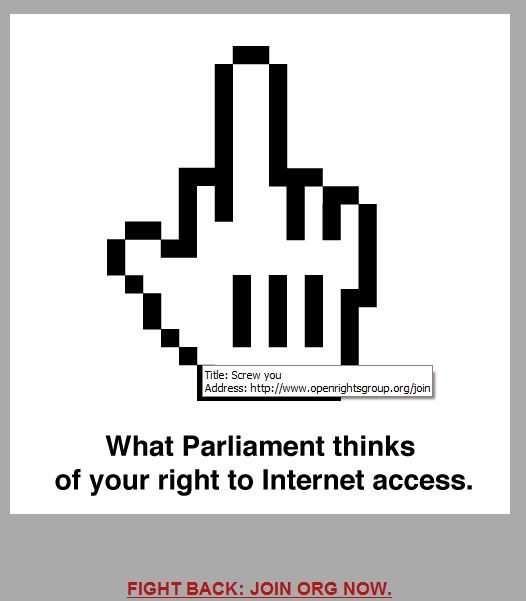 The ORG's reaction to the Digital Economy Bill
The Digital Economy Bill is the last item on the agenda for debate.
Augmented reality newspaper The Guardian declared the Digital Economy Bill law last night, even before it got to its Third Reading in the Lords. And without a Corgi print in sight.
Perhaps in the House of Twitter – "the OMGs to the right: 2,443, the EPICFAILs to the left: 902"- it already is. ®
Update: The Lords gave it the nod, and the Bill received Royal Assent late this afternoon.
*Bootnote
Recruitment might not be the right word here, since it implies membership – and ORG is not a membership organisation. While you're invited to give them money, you don't get any membership 'rights'. Another reason for the truly committed to join the Pirate Party...