Fanboi's delight - the top ten free iPad apps
And the top 12 bridesmaids
---
Either you just bought an iPad and you wallet is now depleted, you're thinking of buying one and you'd like to know how you can stuff it with apps for zero dollars, or you're simply curious about how free iPad apps compare with free iPhone apps.
Or you're merely intrigued by the whole media-fed iPad hysteria. In any case, The Reg is here to help.
We installed and tested dozens of the most attractive - and free - iPad apps available on the iTunes App Store, and chose the ten that best show off the iPad's advantages over its smaller-screened sibling. Some - most, actually - are apps that already exist in iPhone form, but which have done a fine job of exploiting the iPad's expanded acreage.
In addition to our top ten, we also picked a dozen runners-up. You may - you will, if you're a true Reg reader - disagree with our top ten, but you may find something of interest among the also-rans that you can promote into your own personal top-ten list.
To keep the field manageable, we skipped apps put out by such news outlets as Time, the BBC, USA Today, and The New York Times - well, our #10 pick is a news service, but its app is enhanced with a raft of personalization features and real-time feeds.
You'll also notice that there are no games on our list - even though the market-watchers at Distimo claim that Games is the largest iPad-app category. The reason for this omission is simple: we're not gamers, and for us to rate games would be as silly as, say, for someone who has never used an iPad to have strong opinions about it.
And, yes, that last comment was, indeed, flame-bait.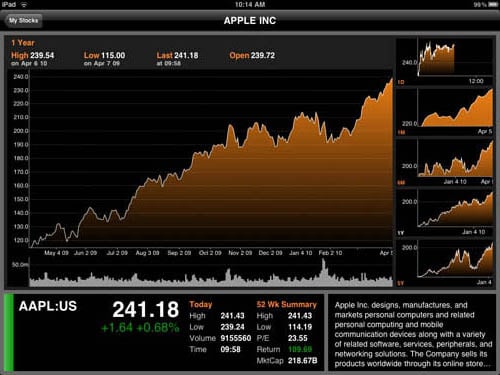 Apple must be doing something right
Bloomberg's iPhone app is among our daily go-to sources of info, and its iPad app is a notable step-up in presentation quality. In it you'll find continually updating news, equity indices, bond and commodity info, current rates for 25 top currencies, and audio podcasts that you can listen to while navigating around the rest of the app.
A My Stocks feature lets you set up your personal portfolio and track its health, or simply keep an eye on companies you're interested in. For example, as we're writing this on Friday morning, Apple's stock is up 0.77 per cent and Google's is down 0.27 per cent. Might have something to do with yesterday's iAd announcement.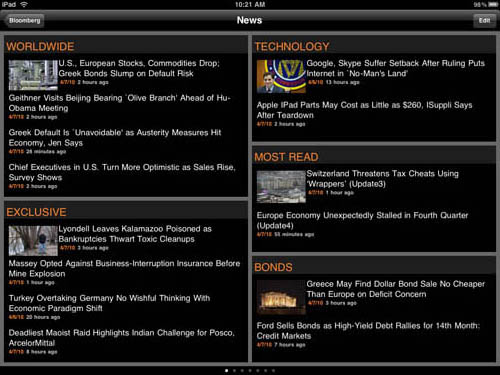 You can customize your news feeds from nearly three dozen topic choices
---