Number One and a Dozen More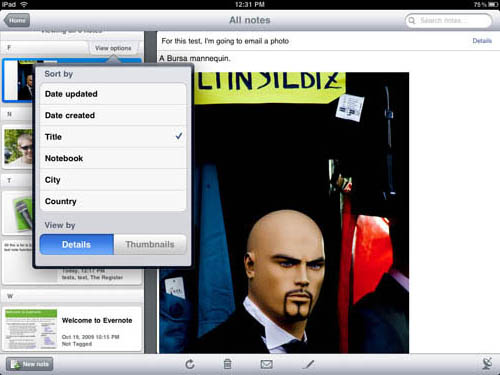 Tag and sort your notes
Like our #2 pick, our El Numero Uno free iPad app is also an organizational tool that's a window into a cloud-based service - which may say more about us than it does about the universe of free iPad apps.
Evernote lets you create, sort, tag, and categorize text and audio, add images, then sync them all between your iPad and your Mac or PC - which it also does in its iPhone version, but which is now a squillion per cent easier with the larger display provided by the iPad.
Like Box, Evernote has a free level of its service, with a monthly upload allowance of 40MB. A Premium version - $4.99 per month or $44.99 per year - ups your monthly uploads to 500MB and adds a few more features, including the ability to search within PDFs and sync "any type of file."
One slick trick: Evernote has the ability to read text in images. Add a photo to it, let the company's servers churn on it for a bit, then search for the text. Strange as it may seem, it actually works. This feature - among others - would be more useful, however, if the iPad had a camera. We'll just have to wait until iPad 2.0.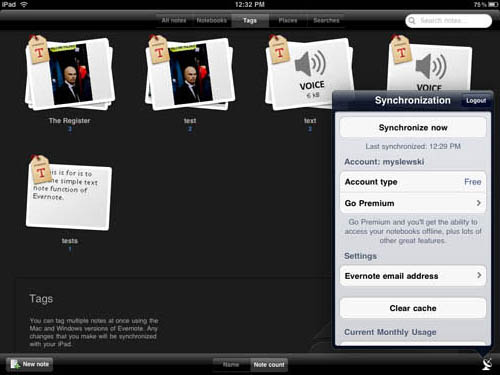 Give a note multiple tags, and it'll show up in multiple note piles
---
Honorable Mention
Although we stand behind our top ten, you may not need as much organizational help as we do, nor find any need to check your stock portfolio. For that matter, after the past 18 months or so, you may no longer have a stock portfolio.
No matter. Here are a dozen more free iPad apps that might catch your fancy, listed in alphabetical order. And remember, even if you download them, try them out, and find they're not to your liking, you've only lost time, not money.
---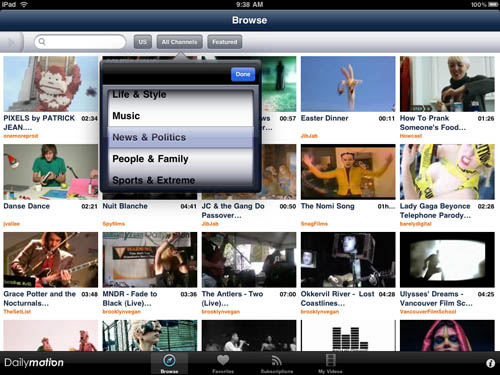 Find videos by channel and country
This interface to tons of videos on tons of topics can provide hours of amusement, education, news, and music, with videos grouped by country (UK included) and interest-based channels.
---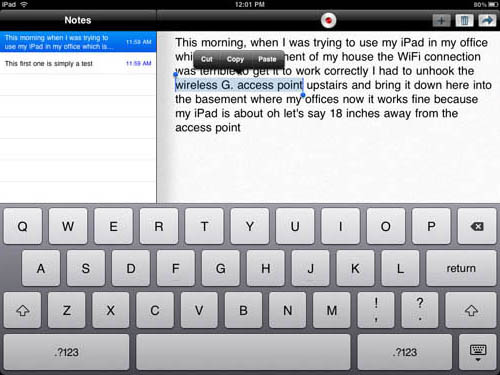 After dictating, use the iPad's keyboard for corrections. Cut-and-paste is supported, as well
We liked the remarkably accurate Dragon Dictation speech-to-text app for the iPhone, and we like it even more on the iPad. And, yes, it's server-side engine does ask to upload names of your contacts to aid it in spelling them accurately, but not their addresses, photos, notes, or any other content.
---
Similar topics