This article is more than 1 year old
Jobsian email axes early-iPhone support
His Steveness is 'sorry'
With the release of iPhone OS 4.0, the iPhone 2G will demoted to unsupported status, according to no less an Apple expert than Steve Jobs himself.
As reported Tuesday by MacStories, a tweet from a Twitterer with the handle of ven000m emailed His Steveness with one simple question:
Hey Steve!
is Apple supporting/updating the iPhone 2G in the Future?
To which Jobs gave an even more straightforward answer, below: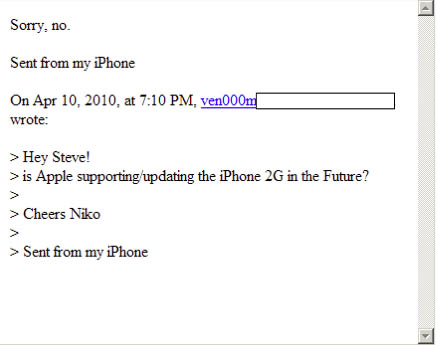 Steve Jobs, man of few words (credit: ven000m)
The email header provided by ven000m, which can be found here, looks legit. And the brevity of Jobs' response matches that of such recent Jobsian emails such as his "No" sent in response to a Swedish trance DJ who asked if a Wi-Fi-only iPad could tether to the internet using an iPhone's 3G connection, and the comparatively verbose "Change your apps name. Not that big of a deal." response to a developer's impassioned plea that his six-year-old app be allowed to keep its name, iPodRip.
So it appear that The Man Himself has now officially let the world know that the iPhone 2G - which, presumably, refers to the first-generation iPhone, which used EDGE, not 3G - will not only not run the recently announced iPhone OS 4.0, but that support for it is also being dropped.
At least Jobs said "Sorry." ®