Antarctic boffins obtain prehistoric deep ice core sample
Expedition returns from isolated, stormbound camp
---
A team of boffins who have been mounting difficult deep drilling operations at a remote camp in Antarctica believe they may have obtained ice cores dating from the last glacial era.
"My gut feeling is that the ice at the Bruce Plateau site might have built up during the latter part of the last glacial stage," says Ellen Mosley-Thompson, top boffin on the project.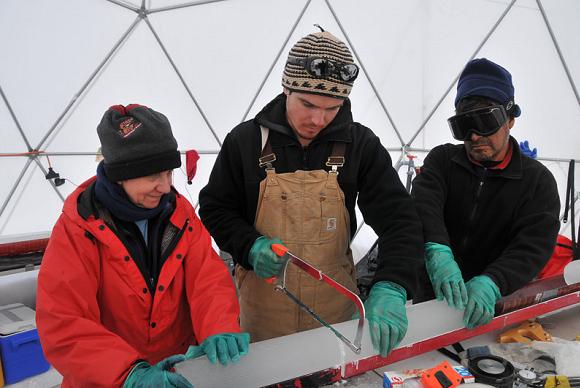 Damn, I've lost count.
Mosley-Thompson and her international team of specialists were funded by the US National Science Foundation, as part of the larger Larsen Ice Shelf System, Antarctica (LARISSA) project. LARISSA is aimed at discovering the reason why large bits of the projecting Larsen ice shelf broke up in 2002.
One theory is that the Larsen breakup results from human-driven global warming, but there are other explanations. German and Russian scientists, for instance, have suggested lately that interglacial periods like the present Holocene - which is probably ending - may finish with one or more brief warming periods before the glaciers return.
Other scientists have theorised that climate conditions around the Larsen shelf are a highly unusual case, very different from the rest of Antarctica. It's a little-known fact that the area of Antarctic sea ice has actually increased overall by nearly 40,000 square miles per decade over the last 30 years: the Larsen sheet breakup may simply be a minor anomaly.
Earlier LARISSA surveys using ground-penetrating radar had suggested that the Bruce Plateau would be a good place to obtain ice cores illustrating the entire history of the Larsen shelf, right back perhaps to the last glacial era, millennia ago before the present Holocene warm time began.
Accordingly, Mosley-Thompson and five other boffins flew out to the Plateau from the British research station Rothera (on the western Antarctic peninsula) last December. They set up a small camp including a geodesic dome covering a special ice-drilling rig, intended to obtain ice cores all the way down to the polar bedrock. Operations commenced on New Year's Eve.
But the drilling didn't go smoothly.